Handgun class exclusively for women
Jan 17, 2017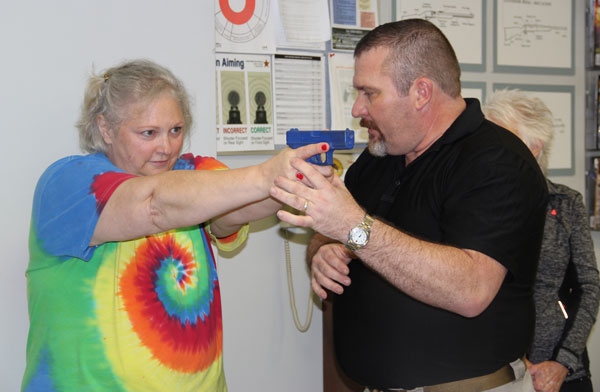 It's 3:16 a.m. when you hear a window break in your home. What do you do?
This semester COM is offering First-Step Basic Handgun Classes exclusively for women.
The course is for beginners interested in personal protection with a handgun. Students do not need to own a handgun.
Participants will learn about types of guns and which kind fits their needs through classroom sessions and handgun practice. The class covers firearm fundamentals and prepares students for the Concealed Handgun License (CHL) class.
The class meets Jan. 30-31 6-10 p.m. and March 27-28 6-10 p.m. The cost is $82 for students in district and $87 for those out of district.
Daniel Blackford, a concealed handgun license instructor since 2002, formerly taught classes to Secret Service employees.
"It focuses on the fundamentals of guns. I spend a lot of time on safety," said Blackford. "First-Step Basic Handgun is designed for people with little to no experience. It's about finding the right gun for you, which gun fits in your hands or your lifestyle."
Blackford, who earned a criminal justice degree from University of Houston, began in law enforcement at Liberty County before joining the Secret Service. He worked in Washington D.C. for six years, where he went to firearms training with U.S. and international militaries and special forces.
Student Rita Guardiola had never touched a gun before.
"I didn't know the harm you could do to yourself if you don't [shoot] properly. I feel comfortable to be around guns now," said Guardiola.
It allows women to learn in a supportive environment.
"I was so excited to hear about a class for women. I took the class to learn how to protect myself. It's like CPR – you hope you never have to use it, but I have used it (CPR)," said Arlene Levine, a retired registered nurse from Galveston. "I should have taken it 20 years ago."
For more information, contact Blackford at 409-933-8485.