Kick off the new year with fitness options
Jan 9, 2017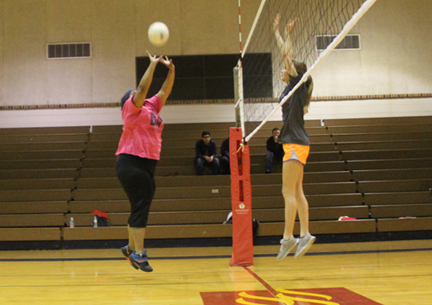 Start off the new year right by joining a COM fitness class, signing up for a gym membership or enrolling in a volleyball league.
Fitness classes
Classes begin Jan. 17 for participants of all abilities to work out in a fun, supportive environment.
Cardio Walking/Running helps beginning or advanced runners or walkers improve their distance and speed. The class meets Tuesdays and Thursdays from 7:15-8:15 a.m.
Tai Chi helps students increase energy and fitness with breathing and Yang style Tai Chi exercises. The intermediate class meets Mondays and Wednesdays from 1:15-2:15 p.m. and the beginner class meets Mondays and Wednesdays from noon to 1 p.m. or Tuesdays and Thursdays from 12:30-1:30 p.m.
Line dancing involves forming patterned foot movements and moving in a line in unison to music. Line dancing not only blends exercise and recreation, it is also a fun way to meet new people and experience personal satisfaction from your accomplishments. Classes meet Tuesday and Thursday evenings.
Country Western Dance introduces students to different styles of country western (partner) dance styles, which include the two-step, polka, waltz, nightclub 2, East Coast swing and West Coast swing. The class meets Wednesdays from 6:30-7:30 p.m.
Texas Two-Step introduces classic moves including turns, spins and sweetheart wraps. The class meets Wednesdays from 7:45-8:45 p.m.
Pilates strengthens the muscles that support the spine (the neck, shoulders, abs, hips and thighs) to bring balance into the body. It meets Tuesdays and Thursdays from 4:15-5:15 p.m.
Weight Training teaches students to safely and properly perform a circuit weight-training program, which should result in reduced resting blood pressure, increased muscle and decreased fat, a lower body weight, and a healthier body composition. It meets Mondays and Wednesdays from 7:15-8:15 a.m.
Yoga introduces basic postures, breathing techniques and strengthening exercises. It meets from 8:30-9:30 a.m. Tuesdays and Thursdays.
Zumba classes infuse Latin rhythms and easy-to-follow moves into an aerobic, toning workout. The class meets Tuesdays and Thursdays, 9:45-10:45 a.m.
Gym membership
COM Gym memberships offer a cost-effective, convenient option for anyone looking to maintain an active lifestyle. Try out the gym with a $5 day pass or a semester membership for $40 for in-district adults and $30 for in-district youths (ages 5-17) and those over 50.
With three open cardio/weight rooms, stationary bicycles and basketball courts, the gym's amenities facilitate a varied workout routine. The gym is open 6 a.m. to 10 p.m. Monday through Thursday, 6 a.m. to 7 p.m. and 9 a.m. to 3 p.m. Saturday and Sunday.
For more information, call 409-933-8422.
Volleyball leagues
COM's adult volleyball leagues give students and the community an opportunity to challenge their spiking, setting and serving skills in friendly, competitive environment.
Two leagues are open to teams of varying skills levels. There is a cost ranging from $225-$230 for each team registering.
For more information and classes, call 409-933-8422 or visit www.com.edu.