Helping students navigate admissions process - for any college
Dec 14, 2016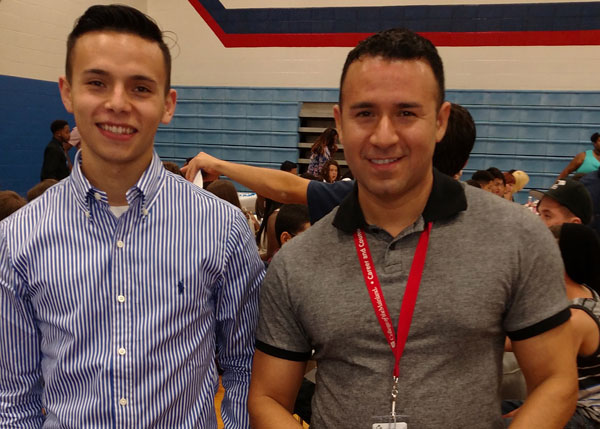 The first in his family to attend college, Jason Garnados had lots of questions – about financial aid, applications and transferring. While he was a senior at Dickinson High School, Garnados had College Connection advisor Lionel De Luna on campus to help him each step of the way.
"I am currently attending the University of Texas at San Antonio and selected mechanical engineering as my major. Mr. De Luna helped me on how to apply for colleges and as well as scholarships. He guided me on the steps needed to successfully transition from a high school student to college student," said Garnados, who graduated from Dickinson High School.
Each of the five high schools in College of the Mainland's district – Texas City, La Marque, Santa Fe, Hitchcock and Dickinson – have a dedicated College Connections advisor, a COM employee, on their campus four days a week. Clear Creek, Clear Falls, Clear Springs and Friendswood High Schools share an advisor. Students can drop by to discuss college plans, applications, scholarships, financial aid and majors.
College Connections advisors are using technology to reach students, such as the Remind app that they can use to sign up for reminders on SAT, ACT and FAFSA deadlines.
"A lot of kids are shy but they have no problem texting me questions with a screenshot of the forms," said Kody Allred, College Connections advisor for Santa Fe High School. "All texts are saved on the Remind server to protect both the educator and the student from any inappropriate communications. I can also review essays that they have written if they send it as an attachment."
Emily Parsutt is one student Allred has helped.
"I've been using the College Connections Center my senior year. I've talked with Kody as well as texting him when I need to," said Parsutt, who plans to earn a master's in nursing. "Before I went to him for help, I was scared and had no clue on how to begin planning my future. Since talking with him, I've felt a huge weight lifted off my shoulders knowing I'm going to graduate high school with a set plan. Kody has also helped me apply for college at COM and is currently helping me apply for FAFSA and scholarships. He makes the entire process easier."
The College Connections Program, a partnership between COM and high schools, aims to encourage more students to attend a university. Many students are the first in their families to enroll in college and so don't have relatives to turn to for help navigating the application process.
"Kody serves as the liaison between the high school and the transition to post-secondary options. He works with the students to ensure they have completed their ApplyTexas application [to all Texas colleges]. He works with them to prepare for the TSI-A [placement test], and the college provides waivers for all first-time testers. He builds relationships with students and they are encouraged by his outreach," said Melanie Featherly, Santa Fe High School counselor.
Depending on the season, College Connections advisors may guide 30 students per day as they answer questions from "What is a good SAT or ACT score?" to "How do I apply for scholarships?"
"We help the students make an informed decision about what is best for their college career," said Allred.
For more information about the program, visit www.com.edu/college-connections.