At Man Up Conference, students learn leadership, career skills
Nov 4, 2016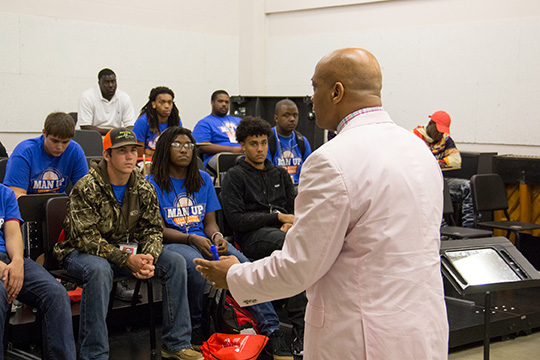 Just one mentor – whether an older student, teacher, counselor or other role model – can make the difference between a high school student choosing to tackle the challenge of college or stop after high school graduation.
More than 80 students from Dickinson, Hitchcock, Santa Fe, Texas City and La Marque High Schools connected with students about college life, explored careers and heard professionals' journeys to success at the first Man Up Leadership Conference.
"I found out what I want to be," said Cameron Sloan, after viewing COM programs at the resource fair. "I'll probably come to college for process technology."
Students attended workshops, viewed campus and asked questions about applying to college, financial aid and choosing a major. A panel of speakers responded including University of Texas professor Victor Saenz, Vice President of Health and Safety of Glass - North America David Perez, owner of K & G 5 Star Barber College Glen Wilson,teacher and coach at Manvel Junior High Eric Michael Carr, COM financial literacy educator Lisa Gulesserian, NASA audio-engineer David Juge and COM media support specialist Brad Denison.
In breakout sessions, men shared their often circuitous paths to education.
"I didn't know my high school decisions affected my future. I didn't have a good plan," said Juge, now an audio engineer at NASA.
Denison shared how social media affects perception and prospects.
"You don't want your post today to impact your job prospect tomorrow," said Denison.
The conference was part of COM's minority male initiative, designed to encourage male students, who are statistically less likely to graduate from college.
"We have three goals, enrollment, retention, graduation," said COM advisor Stuart Jackson. "We want to help them be a full-time student in classes that fit their goals, keep them in class from semester to semester as long as it benefits them and help them graduate with a degree or certificate."
The Men at Work student club, part of the initiative, invites male COM students to come for lunch meetings and discussions on topics such as the types of financial aid they can apply for.
Melvin Senegal, of Texas City, appreciates the group's camaraderie.
"I was part of football team in high school. I'm used to brotherhood. This is a very positive environment," said Senegal. "I've been on a couple leadership trips, one to a University of Texas male minority leadership conference. I learned a lot about the history of Hispanic and African-Americans and what we can be when we work today."
The college plans to incorporate service projects into the club's mission and to make the Man Up Leadership conference an annual event.
For more information, contact 409-933-8195 or sjackson22@com.edu.