Original play dives into history of community college
Oct 31, 2016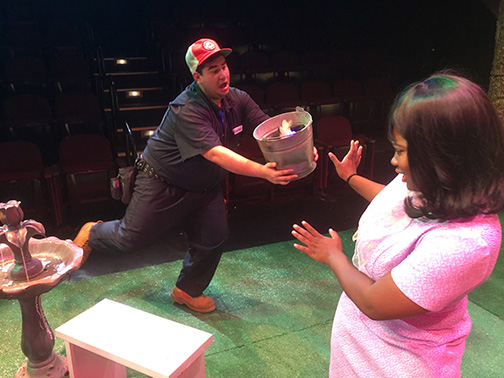 Laugh, explore College of the Mainland's history and discover how the best-laid plans can have unexpected results in a new original comedy Nov. 3-20 at COM Community Theatre.
Written by theatre director H. Russ Brown in honor of College of the Mainland's 50th anniversary celebration, "C.O.M. Wasn't Built in a Day" is loosely based on people and events during COM's first semester in the fall of '67 at Booker T. Washington High School.
COM president Dr. Herbert F. Stallworth has plenty to contend with in getting a new college off the ground, but an Open House Night with no air-conditioning just before a vital bond election doesn't make it any easier! Throw in a greedy mayoral candidate, a wily downtown business owner, a very vocal student senate, a well-meaning custodian and additional pressure from "the powers that be" and you've got a hurricane of commotion! But with his trademark wit and affability, Stallworth navigates the rocky waters in this funny and affectionate mix of fact and fiction.
Tillie Henson, COM's archivist, assisted Brown in his search for the people, events and community that shaped COM's story.
"Tillie was here that very first semester in 1967 as a student, was hired here upon graduating and has stayed until this very day – now keeping the school's history intact through the COM Library," said Brown. "I listened to Tillie express how much pride the community had in the beginning for COM and how it wasn't just a community college, it was their community college. That sense of community pride and ownership resonated with me. The 50th anniversary is a cause for celebration, so shouldn't the play also be a celebration – a fun evening?"
Brown has written dozens of plays, many produced at both the community and professional level in theatres nationwide. In 2002, he was awarded the John F. Kennedy Center for the Performing Arts New Visions/New Voices award for his musical adaptation of Oscar Wilde's short story, "The Selfish Giant." In 2005 he received the Kennedy Center ACTF/NST Fellowship for Outstanding Individual Achievement in Playwriting.
This play differs from Brown's others in its blend of history, fiction and comedy.
"It should honor the spirit of those associated with COM who were real in their spirit and their desire to elevate those around them," said Brown. "I know few will walk out of tonight's celebration a changed person – but I know all will walk out with a smile on their faces."
Since 1972, COM Community Theatre has presented over 228 productions including children's theatre, concerts and workshops with attendance of more than a quarter of a million people. The theatre has been recognized as one of America's leading community theatres, setting high production standards and developing one of this country's most innovative programs. Beyond education, the College of the Mainland Theatre bears a three-fold commitment: to provide quality theatrical experiences for residents of the area, to offer a forum for local and regional talent by holding open auditions and to extend the reputation of College of the Mainland.
For tickets, visit www.com.edu/community-theatre or call 409-933-8345.