Spooky sounds soar in Monster Musik concert
Oct 14, 2016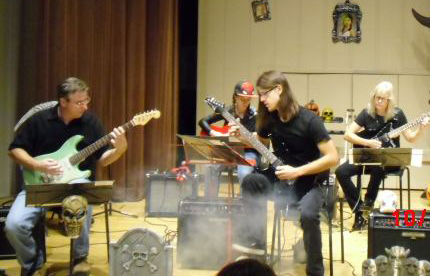 Sinister, classic movie soundtracks will soar eerily to life in a free Monster Musik concert Oct. 27 at 7:30 p.m. in the Fine Arts Building.
COM Electric Guitar Ensemble will reprise classic horror film soundtracks from "Psycho" to "The Devil and Daniel Webster." They will also play a new piece "Tales from the Creep" that director John Kiefer commissioned Dallas-based composer Eddie Healy to write.
"This the 10th piece I've commissioned. There's not a lot of music written for multiple electric guitars. It's a new instrument compared to instruments with hundreds of years of tradition," said director John Kiefer. "I think it's important to have living composers write for us to add to the music literature for electric guitar ensembles and encourage composing."
The Electric Guitar Ensemble is comprised of COM students and community members.
"Guitarists of all skill levels are welcome to join the group," said Kiefer.
Students can take the course as a credit or continuing education course. No audition is required.
The COM Music Program prepares students to pursue their passion or a career in music. Music students may select from six varied ensembles to further their skills in performance and music education. Many COM students have appeared with community college all-state performing ensembles, and some ensembles have performed at national conferences and in Europe. The two-year associate degree transfers to state universities.
For more information, call Kiefer at 409-933-8545 or visit www.com.edu/music.