Cutting-edge continuing education for cosmetologists
Sep 13, 2016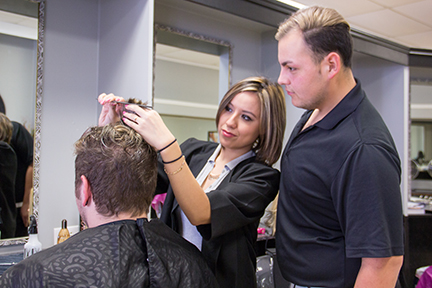 Cosmetologists can quickly complete their state-required continuing education hours with fun, discussion-based classes offered for the first time this fall at College of the Mainland.
Participants can select courses that will help them build their businesses and retain clientele.
Oct. 5 – How to Consult for Best Results, 9 a.m. – 1 p.m.
Nov. 3 – Personal Greatness – Goal Setting and Attitude, 9 a.m. – 1 p.m.
Dec. 7 – Building Salon Sales and Productivity, 9 a.m. – 1 p.m.
"At each class, students can network and discuss strategies with other cosmetologists," said Jamie Hunsucker, COM cosmetology instructor.
The cost is $30 for each course. All courses include the required one hour of sanitation information.
College of the Mainland is a recognized provider of cosmetology continuing education courses. All courses are preapproved by the Texas Department of Licensing and Regulation. COM will automatically submit students' continuing education hours to the Texas Department of Licensing and Regulation after completion of the course.
In addition to continuing education, the COM Cosmetology Program offers Esthetician, Cosmetology Operator and Cosmetology Instructor Programs.
For more information or to register, call 409-933-8608.