Professor by day, firefighter by night
Sep 7, 2016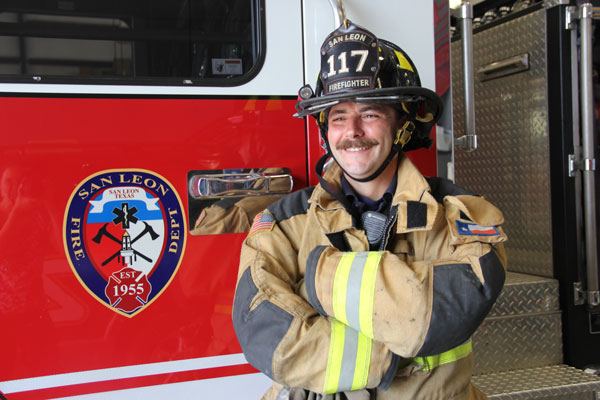 When R.E. Davis dismisses his last class of the day, he isn't off the clock. He is now on call for the San Leon Volunteer Fire Department.
"It's all-hazards response. Firefighters are first responders so we provide medical services," said Davis.
The San Leon Fire Department has received about 247 calls in 2016, and so far he's assisted in around 88 of them.
"The last call was an RV fire. As soon as we got off the truck, he knew what he was doing," said fellow San Leon firefighter/EMT Jesse Turrubiate. "He's very trustworthy. A lot of the younger [firefighters] look up to him."
Joining the department and earning Rookie of the Year in 2014, Davis next won Firefighter of the Year in 2015.
"Dr. Davis serves as a model for our students in how he is broadly engaged with the world and with his dedication to community service," said humanities department chair Brian Anderson. "He knows how to relate to students, and he brings a lot of cultural experience and knowledge to class."
His dual roles as speech professor and firefighter complement each other. Sometimes his communication skills are what are vital in emergencies, Davis said.
"Sometimes people will call 911 not because there's a life-threatening emergency but because they're lonely. People want to feel listened to. I have to empathize and communicate that we're here for you," said Davis. "We also go into schools and teach fire safety."
Real-world communication challenges are something he emphasizes in his interpersonal communication and speech classes.
"We study how conflicts unfold, how relationships start and become stable, and how they fail. We look at how to have healthy work relationships and romantic relationships," said Davis.
Teaching interpersonal skills also serves the community.
"The power to communicate makes a stronger democracy," said Davis. "Public speaking is people's biggest fear, sometimes more than death. No matter where your career takes you, speaking gives you influence and power in communicating in your family, business and community."
Student Michael Powell, of League City, remembers Davis' speech class.
"Dr. Davis is a very motivating instructor who truly cares about his students," said Powell. "He is one of the reasons I have chosen my path as a teacher. I used to teach classes while on active duty. With that being said I still learned things and improved on my speaking skills, gestures and structures of speeches."
Student Rose Pipkin took Interpersonal Communication this semester.
"Dr. R.E. Davis is always happy and that happiness is shared with all the students," said Rose Pipkin. "Everything that I learned in his class I apply in my everyday life between work, school and home. You can read people's facial expressions and know if they're going through something and know how to talk to them."
Davis, who has a doctorate of communication from the University of Oklahoma, also is a COM graduate. He completed the COM Emergency Medical Services Program. He previously taught at the University of Nevada-Reno, Stephen F. Austin State University and the University of Oklahoma.
"I want my students to leave my classes with more communication skills so when they go into their civic life or career they have the tools to communicate with others and make their world a better place," said Davis. "That's why I teach, to give them the tools in order to increase their ability to influence their universe."