Texas City honors COM students
Aug 22, 2016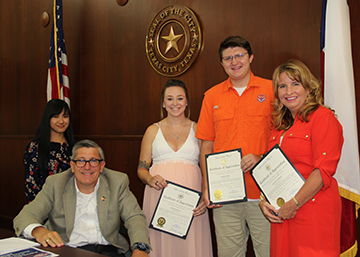 Mayor Matt Doyle recognized three College of the Mainland graphic arts students for their work on projects for the city Aug. 3.
Parker Johns, Naerial Cruz and Chandler Milillo designed posters and logos for city events and projects as class assignments in professor Coleena Jackson's graphic design classes.
"Thank you for your contribution to your community, and I look forward to seeing many more of your wonderful works of art," Mayor Matt Doyle said.
Johns, of Texas City, and other students designed logos and posters for Movie Night on the Dike as part of a COM class assignment, and the city selected Johns' work to use. Johns graduated from Collegiate High School at COM with an Associate of Arts degree three weeks before graduating from Texas City High School.
"Graphic design gives me the opportunity to use my art for other people," said Johns, who will pursue a bachelor's degree in graphic design at Sam Houston State University. "I'm making something for someone else and hopefully it makes them happy."
Cruz, of Texas City, designed the Game Day Gumbo Cook Off poster, Model Train Festival poster and the Texas City Public Access Channel logo. Cruz interned at Texas City ISD and is now employed by AMOCO Credit Union.
"With those projects, I was able to be as creative as I wanted. It helped me to gain valuable exposure and experience and further develop my portfolio," said Cruz. "As much as possible, Coleena Jackson tries to give us community-based projects to prepare and train us."
Milillo, who graduated with an associate degree from COM in May, designed the phoenix-emblazoned Texas City Firefighters Games logo and poster.
"The phoenix stands for the Texas City Fire Department rebuilding after the Texas City Disaster. I put the Texas flag inside the phoenix," explained Milillo, of Texas City.
Instructor Coleena Jackson said the class assignments help students learn to create designs that meet clients' needs.
"Real-world clients are imperative to the success of programs and student success. All three students are proud Texas City residents and were very willing to work on projects that contribute and give back to their city," said Jackson.
In the hands-on COM Graphic Arts Program, students learn what the pros know about design, including digital photo manipulation and computer illustration. Topics include the principles of design, Web design, typography and color theory. Students learn using industry-standard hardware and software. Students will develop their portfolios through projects including logos, business packages, brochures, newsletters and billboards and websites.
For more information, visit www.com.edu/graphicarts.