Students receive petrochemical scholarships
Aug 17, 2016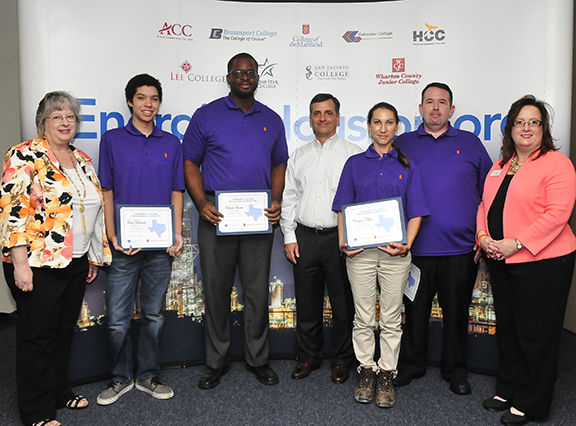 With the Gulf Coast area petrochemical industry needing more than 50,000 new workers within the decade, nine community colleges have set out to find and train this "next generation" of skilled workers, enabled by a grant from ExxonMobil.
Now in its fourth year, the Community College Petrochemical Initiative has spread the word across the region that typical salaries in this expanding industry average nearly $100,000 and opportunities are available with those who possess the necessary skills.
Representatives from ExxonMobil and all nine partnering colleges met today at ExxonMobil's main office building in Baytown to present $45,000 in scholarships to 34 selected students.
ExxonMobil Chemical Company Senior Vice President Matt Aguiar congratulated the students and spoke to why ExxonMobil continues to invest in the program. "We continue to see great progress as these colleges educate, train and develop candidates to fill the increasing number of jobs in the petrochemical industry," Aguiar said. "Because of the ongoing success, I'm proud to announce that ExxonMobil is providing another $300,000 for this important training program."
ExxonMobil has contributed more than $1.8 million towards training skilled new workers. This is the third consecutive year that the initiative and ExxonMobil have brought together new recipients to present scholarships and encourage them in their educational pursuits.
2016 scholarship recipients include:
· College of the Mainland: Brandon Abshier, Richard Ahamba, Louis Maldonado, Cristina Tobias
· Alvin Community College: Jaecen Foytik, Andrew Flores, Mandi McLemore, Clarence Johnson
· Brazosport College: Rigoberto Cardenas, Patrick Haynes, Zackary Nieto, Yolanda Richo, Hong To
· Galveston College: Zachary Davis, Jacob Mares, Fabian Urias
· Houston Community College: Cajetan Nwachukwu
· Lee College: Ellis Dorrance, Marisela Morales, Camrin Lynn, Gerardo Palominos, Estaban Sanchez
· Lone Star College: Benjamin A. Brown, Douglas Bragg, Baleriano V. Perez
· San Jacinto College: Robert Aquilera, Jose Arias, Veronica Cortes, Victavia Owens, Nghi Nguyen
· Wharton County Junior College: Al'lon Jones, Carl Jones, Johnathan Klotz, Rocio Salazar Yepez