Art to architecture
Aug 15, 2016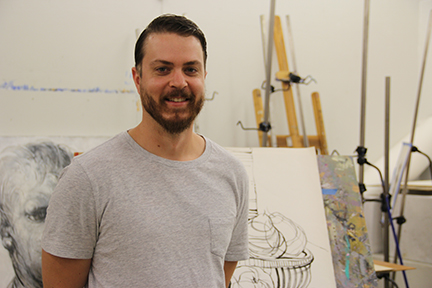 Painting was Shawn Cleveland's respite in the military. He's hoping to turn it into a career.
After Cleveland, of La Marque, took painting from professor Mark Greenwalt in 2004, he kept creating throughout his Air Force service.
After his commitment was over in June 2015, Cleveland returned to art lessons and found a new career.
"You're learning how to do basic stuff. It challenges the way you think. It's more philosophy than art. He makes you think past the subject – it's not just drawing circles," said Cleveland.
Wanting an artistic career where he could also support his family, Cleveland applied to the University of Houston Gerald D. Hines College of Architecture and Design, a program with a competitive acceptance rate.
To stand out from the crowd, he submitted a portfolio of his paintings, which Mark Greenwalt helped him compile.
"He would stay until seven or eight at night with me. He had no obligation to do that," said Cleveland.
Their work paid off and Cleveland was accepted for the fall semester.
"I like the fact that [painting is] not permanent. I can cover it up and change forms really fast," said Cleveland.
His works were displayed at the COM Student Art Show, where he sold a few paintings.
The Visual Arts Program at COM offers a variety of classes including lecture courses in art history and art appreciation and hands-on studio courses in ceramics, sculpture, painting, photography, design, drawing and digital media. Blending traditional and contemporary art-making concepts, COM faculty are accessible, working artists dedicated to advancing the individual vision of our students within collaborative studio environments, lecture classes and online classes.
For more information, call 409-933-8348 or visit www.com.edu/fine-arts.