Tablets in hand, students learn English, prepare for GED
Jul 27, 2016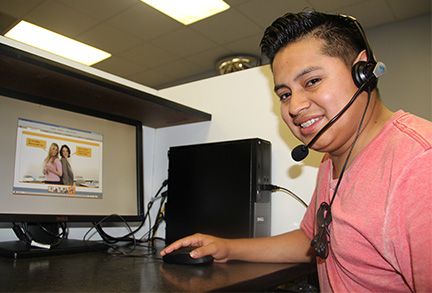 Fresh off a 12-hour shift at Valero, Lecreshia Henderson arrives at her Adult Basic Education class at College of the Mainland to prepare for her GED.
A mother of three and full-time employee, Henderson tries to make each hour count. A new online program is helping her reach her goal of enrolling in nursing school.
She and other students learning in College of the Mainland's Adult Education Program have access to new resources: Burlington English for English language learners and Aztec Software for those in GED and college preparation classes.
"Instead of working through multiple examples and practice problems in class until most people get it, all students can determine for themselves how much practice they need by working online. It's easy to do and they can do it anywhere," said Kurt Czupryn, distance learning coordinator.
Students in COM's classes can log in free of charge on their phones, tablets or laptops. A grant received through the Houston-Galveston Area Council, for Adult Education and Literacy is also being used to purchase 100 tablets with mobile data packages so students without wi-fi can borrow the devices and connect anywhere.
English language learner Pablo Valera, of Friendswood, logs on and speaks into a computer's microphone so the software can analyze his pronunciation.
"You can listen and talk and record your voice," said Valera. "I listen to the conversations and I can take part in them. The software recognizes your pronunciation and knows if your pronunciation is correct or not."
The software supplements the college's adult basic education and English as a second language (ESL) classes, which are offered at no charge.
"Use of the ESL software allows class time to be used for more teacher/student interaction and group activities – leaving the repetition and practice to students working online," said Czupryn. "Some students come with an education from their home county and move through the levels quickly; others' progress more slowly but the common factor is the time students spend either in or out of class. The software allows them to progress faster if they choose and reinforces what they learn in class."
Instructions are in their native language and the speech engine adapts to each individual's speech pattern. Students can select a wide variety of career pathways, learn vocabulary, listen to dialogue, and speak one or both sides of a conversation. Their instructor is able to track their progress.
Basic education students complete lessons in math, reading and writing and reinforce those lessons with practice problems, drills, games and worksheets.
Henderson accesses the program on her phone.
"I always carry my phone with me. The best part is the math, and it breaks down the math part really well," said Henderson.
Basic education classes assist students who either are working toward a GED or who did not score high enough on college placement exams to enter college and want to review.
"Students can do as many drills as they want and they can do it anywhere, even if they have 15 minutes," said Czupryn.
After students complete ESL or GED classes, they can move to college classes with the staff's assistance. The software helps both groups.
"It's not just about achieving a GED or learning English, but moving forward and qualifying for other opportunities in college or for career training," said Czupryn.
For more information about COM adult basic education or English as a second language classes, call 409-933-8294.