Summer musical returns to Roaring '20s
Jul 12, 2016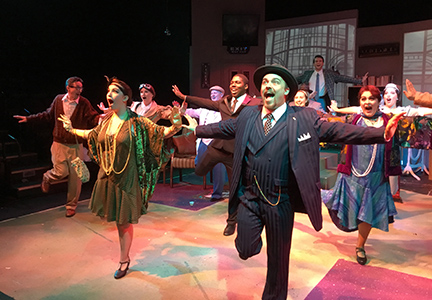 With big musical numbers, singing and the Charleston, "The Drowsy Chaperone" recreates the best of Broadway at College of the Mainland Community Theatre July 14-31. When the show's narrator puts on the record to his favorite musical, the characters pop to life in his apartment.
A vivacious starlet plans to leave the stage to marry, and her harried producer determines to stop her wedding. Add in bumbling gangsters, an aviatrix, a chorus girl, a wealthy widow and an unflappable butler, and you have a recipe for comic musical mayhem.
"It's definitely the classic old-style Broadway musical with tunes that are a fun homage to the Roaring 20s! We have an amazing orchestra under the leadership of musical director Joey Bernsen," said H. Russ Brown, director.
"The Drowsy Chaperone" opened on Broadway in 2006 and ran for more than 700 performances – winning several Tony Awards along the way.
The cast includes Bill Lundgren, Shawna Glad, Kyle Crawford, Chris Pool, Keith Dupree, Jeff Coletta, Andrea Richards, Zack Varela, Laurel Smalley, Lisa Smalley, Melanie Bernsen Clinkscales, Sean Maxwell Bailey, Jared Cadore, Lindsay Lindquist and Roger Stallings. Guest actors also include Auben Brown, a senior at Clear Brook High School, Laurel Smalley, a junior musical theatre major at West Texas A&M University and COM theatre tech major Bryan Hardee in his acting debut. COM theatre performance major Max Estudillo is stage manager.
A show-stopping musical filled with physical comedy, witty banter and fun, the show delights audiences of all ages.
The play runs Thursdays to Saturdays at 8 p.m. and Sundays at 2:30 p.m.
Since 1972, COM Community Theatre has presented over 228 productions including children's theatre, concerts and workshops with attendance of more than a quarter of a million people. The theatre has been recognized as one of America's leading community theatres, setting high production standards and developing one of this country's most innovative programs.
For tickets, call the Box Office at 409-933-8345 or 1-888-258-8859, ext. 8345 or visit www.com.edu/theatre.http://www.com.edu/theatre.