Naval officer to COM students: "You define yourself"
Jun 14, 2016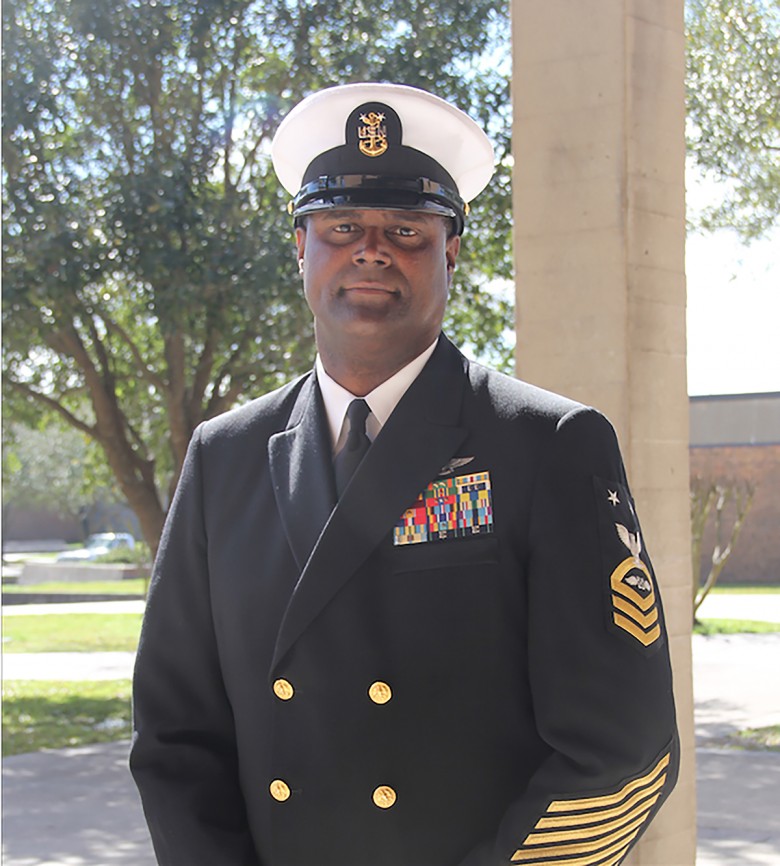 Speaking to 100 high school and college students, U.S. Navy Master Chief Petty Officer Kenneth John Campbell offers his encouragement: "If you don't define yourself, others will define you. You don't realize how much you can achieve. You don't realize how much you can achieve. Use your time wisely. Remember the world is getting smaller; global competition is real!"
Campbell would know – while working at Saudi Aramco, serving in the Naval Reserves and being a father, he earned his degree at College of the Mainland.
It was a circuitous path to an education, though in Campbell's perspective, "People who have it easy don't have the most growth. Those that face adversity and learn to overcome struggles are much better equipped to face the challenges when they arise, and often make for more well-rounded professionals."
Enlisting in the U.S. Navy two weeks after high school graduation, Campbell's first orders were to serve onboard the USS Saratoga. During the Persian Gulf War, he worked as a pump room operator supplying service fuel to embarked aircraft.
"The Saratoga was a Forestal Class aircraft carrier that danced all over the Persian Gulf's imaginary 'line of death.' We sent fighter jets," recalled Campbell. "I was a jet fuel specialist. The fuel standards said it had to be 99.9 percent free from any sediment five microns or larger." [For perspective, a hair follicle is about 100 microns.]
During that same tour of duty, jet fighters from the decks of the USS Saratoga forced down a hijacked airliner and another time forced the surrender of the hijackers of the cruise ship Achilles Laurel. Campbell and the rest of the crew received several distinguished awards and medals for their service.
After six and a half years, Campbell left the Navy, joined the Naval Reserves and began college.
He earned a pre-engineering degree but realized that in the 1990s engineers were in less demand than process technicians, so he enrolled in the COM Process Technology Program.
"I drove all the way from Westbury, a neighborhood near Bellaire, for the program," said Campbell. "It was such an easy transition for me. I already had a process fuel background."
Campbell graduated in 1998 with an associate degree in process technology, a 3.94 GPA and membership in Phi Theta Kappa, the international community college honor society.
"There are a lot of PTEC programs. [COM] was the first. I believe this is the best," said Campbell.
Now a manufacturing technician at ExxonMobil Corp. at the Baytown Olefins Plant, Campbell analyzes data and determines how to improve processes.
"Quality is very important. Exxon makes food and medical grade ethylene," said Campbell. "[COM] was very big on troubleshooting skills and problem solving, knowing what's normal and figuring out what's abnormal. It really helped me look at the big picture."
After 9/11, Campbell was recalled to active duty.
"I was recalled to serve as an Anti-Terrorist Training Officer, and the Leading Chief Petty Officer for Naval Security Force Bahrain. I was charged with ensuring all Department of Defense employees, contractors, all military personal and their dependents received the required Anti-Terrorism Training," said Campbell.
In 2007, he was advanced to Master Chief Petty Officer, the highest rank of enlisted Navy service members. He continues to serve today as a member of the Chief Petty Officer Command Staff on Leadership, selecting officers for leadership roles.
He is actively involved the Real Men Read program, which allows men to select books to read to elementary school children.
"Some of these kids don't have fathers, so they've never seen a man read to them. They're really excited," said Campbell.
He also serves in his church and homeowners association.
"I've been mentoring people for years. I've been all over the world. Everywhere I go people are the same," said Campbell, adding that they usually notice his height first (he's well over 6 feet). "Embrace other cultures; embrace other people; learn from them. I'm still learning today. Don't think your education is over once you get your degree."