COM police promotes sergeant, gives Top Gun Awards
May 27, 2016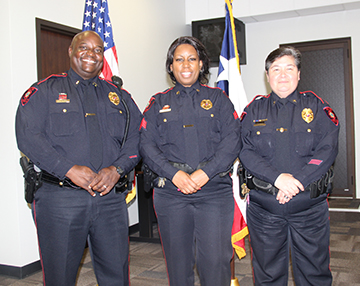 At a recognition ceremony May 12 College of the Mainland Police Chief Sylvia Chapa promoted Officer Vanessa Walker to sergeant and gave two officers Top Gun Awards.
Walker has served with the department for one year as a full time officer and four years as a part time officer. In that time she has taken on the duties of administrative assistant to the chief, dispatch officer/telecommunicator, and police records manager. She also won the COM Employee of the Month award in May.
"She was instrumental in having our department successfully pass a Department of Public Safety audit and has also assisted with the reorganization of the COM Police Department evidence protocol," said Chapa. "Vanessa never hesitates to go above and beyond to help anyone. In addition, she consistently steps up to educate students when it comes to safety."
Going above and beyond state requirements, Chapa began requiring officers this year to requalify on the shooting range twice a year instead of state-mandated once.
Officers Vernette Jones and Daniel Aue earned 100 percent accuracy on shooting qualifications and earned Top Gun Awards. This is the first time COM PD has recognized and awarded" Top Gun" performance.
The COM Police Department recognized Esther Hewitt, Ashlene Sharma, and Kristeona Nelson for their service working in the Student Teams on Patrol Program, which is a safety patrol program on campus.
The ceremony also acknowledged the work of Collegiate High School volunteers Joseph Faust, Emily Allison, Ryan Nedbalek and Daniel Leach.