NASA program selects COM student
May 24, 2016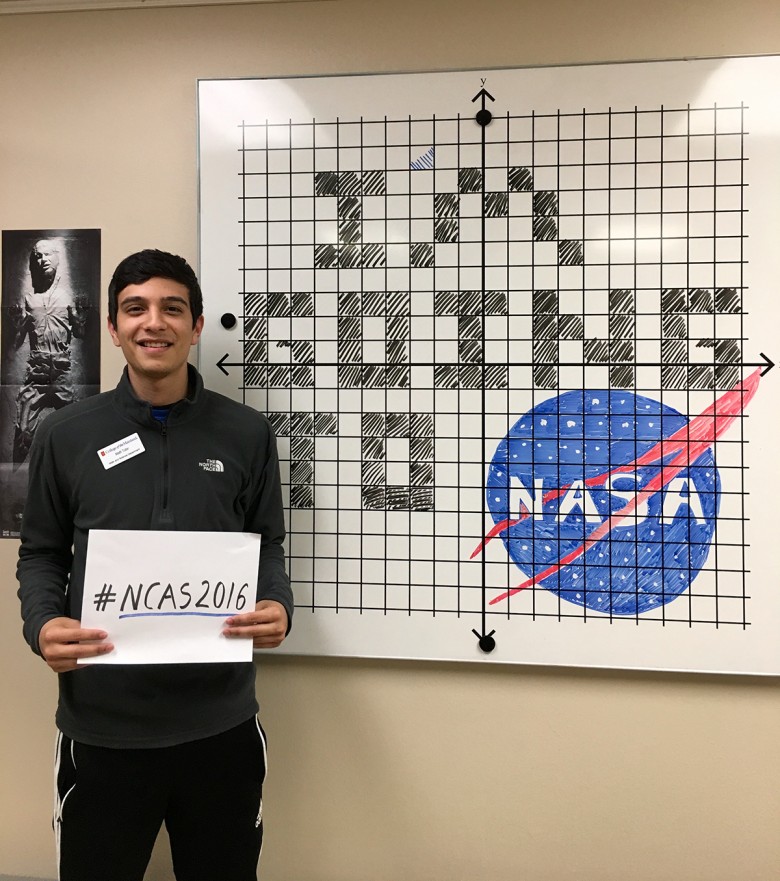 The seeming magic of flight fascinated Javier Duran as a child.
"As a kid, I would stare at planes as they zoomed by and wonder how they got something that big to fly like a bird," said Duran.
Recently Duran, a College of the Mainland student from Kemah, has been selected as one of 216 community college students from across the U.S. to join the NASA Community College Aerospace Scholars project.
Professor Dalel Serda encouraged Duran to apply after a NASA professional visited campus to discuss the program.
"She's always pushing me to do things," said Duran. "I knew I could do it because Ms. Serda believed in me; math tutors believed in me."
After applying and acceptance to the program, Duran started an online NASA class delving into the International Space Station, Mars exploration and black holes. Duran, who wants to become an aerospace or mechanical engineer, said his favorite section discussed planes.
"I got to see the process of making a plane from a plan to a full-size model," said Duran.
Earning a 100 on his final paper on Mars exploration, he's ready for the next phase – a visit to NASA. He'll join other community college students in May for two days of tours, observation and discussion with engineers.
"NCAS [NASA Community College Aerospace Scholars] not only inspires community college students to advance in STEM fields, but it also opens doors for future careers at NASA," said Tania B. Davis, Minority University Research and Education Project Manager.
The program, partly funded by the Minority University Research and Education Program, is committed to recruiting underrepresented students in science, technology, engineering and mathematics.
Duran, a first-generation college student, admitted he came to COM unsure of a major.
"I didn't know what I wanted to do at all," said Duran. "[Dalel Serda] never let me down though. She's the professor I remember who was there for me as a bad student. Even when I was turning in something late, she made me believe l had to graduate."
With encouragement, Duran wrote down all that barred him from succeeding: a full-time job, time with friends and lack of studying.
He decided to change – he stopped working full-time and frequently going out with friends.
"He went from earning barely passing grades in my English 1301 and 1302 classes to working really hard to earn every point of his A average in his calculus class. He makes me ridiculously proud," said Serda.
Duran is now in Calculus 3 at COM.
"[My GPA] started out at one-point-something and now it's 3.2. I was asked to be a math tutor at the COM Math Lab," said Duran.
"There's definitely opportunities at COM. Never in a million years would I have thought I would get accepted into a NASA program [starting] at a workshop at COM. This place is magical. You can go to a university and pay all that money and be in a class with 50 people, and here you study with great professors in a class of 20 people. I've never come across someone at COM that wasn't for helping students."