High schoolers shadow nurses, earn certifications
May 10, 2016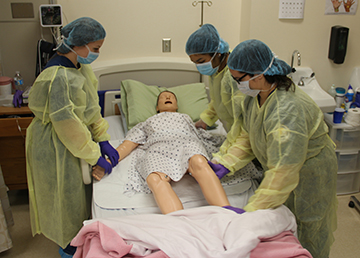 Often just-graduated students have a great education but little practical application in their field. A College of the Mainland program is helping change that by helping students interested in health care get real-world experience while in high school.
"When you're hands-on you learn a lot more. Following the nurses, you get a lot of practice," said Alexis Maroul, who signed up for the COM Certified Nurse Aide (CNA) Program while taking a health science class at Santa Fe High School. "We would assist nurses and check off skills [we learned]."
Maroul has since landed a job at University of Texas-Medical Branch as a patient care technician in labor and delivery.
"It gives them kind of a jump start," said Texas City High School health science teacher Jackie Thompson, a registered nurse with a bachelor's degree in nursing. "It helps with clinical aspects so they can go into a [registered] nursing program easier. I had one student work as a CNA [while going to nursing school]. It's been very successful."
Texas City, La Marque, Hitchcock and Santa Fe High Schools partner with COM to bring the program to their students, usually seniors in high school.
"Students learn skills like assisting patients with walking and measuring height and weight. The most important skill is taking vitals – resting blood pressure, heart rate, respiration and temperature. That's what nurses need on a daily basis," said Sherida Watson, COM instructor and licensed vocational nurse.
The CNA Program prepares students to serve in hospitals, health care facilities or assisted living homes through classroom instruction and clinical rotations at an assisted living facility. Students complete the CNA Program and clinical rotations and then take the state certification exam.
"CNAs are in demand," said Christina Bergvall, COM director of continuing education allied health. "The CNA Program trains students to help patients in hospitals and long-term care facilities with daily activities."
Tuition is affordable, and financial aid is available to those who qualify.
Maroul is one student planning to use the program as a springboard.
"I eventually want to go to nursing school and be a labor and delivery nurse. Applying to nursing school, [a CNA] looks good because you have extra experience."
COM also offers day and evening CNA classes to those out of high school.
For more information, visit call 409-933-8645.