Over 1,100 enroll in COM 50 Plus Program
Apr 19, 2016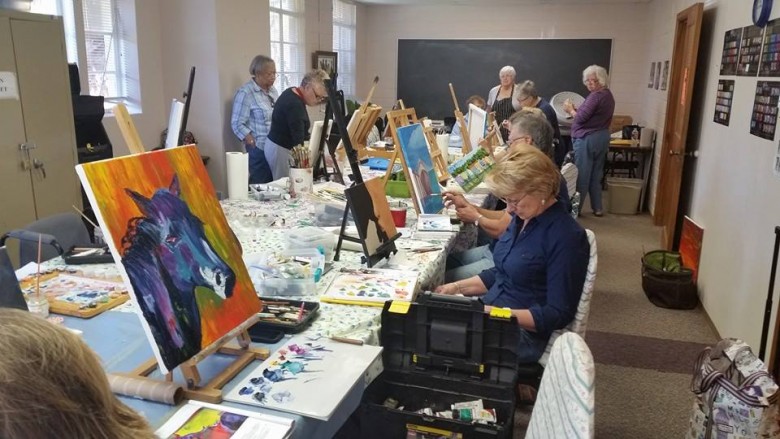 Offering new courses from photography to iPad/iPhone for Beginners, the College of the Mainland 50 Plus Program has topped enrollment of 1,100.
"With over 75 courses, lectures and educational travel adventures to choose from each semester, we offer a wide variety of experiences from conversational Spanish to Tai Chi," said Director of Lifelong Learning Alesha Vardeman.
The program has existed since 1973, and enrollment has grown 37 percent in the past five years.
Students of all ages may select from new workshops on topics from protection against identity theft to caring for loved ones with Alzheimer's and dementia. Students over 50 may join daytrips to Houston and Galveston attractions.
The program also now offers classes in all areas of a juried art show: acrylics, oil, watercolor, stained glass, paper mache and photography classes.
"My pride and joy of the program has to be the many art shows that we have been able to produce in recent years, including being selected as the Mayor's Choice exhibit at the Texas City Art Festival," said Vardeman. "We are now permanent exhibitors each year during the festival, one of the largest in the state. Our students have had the chance to compete with the community and professional artists. When our student Patricia Wright won first place in 3-D art with a gorgeous quilt, I was beaming."
Another popular class is Computer Scrapbooking, and Vardeman looks forward to continued growth.
"To be able to grow the program to include things like dance, exercise and cake decoration that benefit all ages, we have to be able to move to a new place to accommodate it. We are looking forward to moving into Gulfway Plaza later this year," said Vardeman.
It will also let the program begin evening and weekend classes for the growing percentage of those over 50 who work.
Classes are open to students of all ages, but generally offered at $15 for those over 50. Workshops are open to those of any age, while daytrips to plays, nature excursions and historical site visits are exclusively for 50 plus.
The program also is hosting an extended travel trip to Cape Cod (Aug. 14-20) this year. The trip is open to all ages, so participants can include grandchildren or other relatives.
"We have one of the largest programs in the state. This is what makes us a community college: serving the large population over 50 in the area," said Vardeman. "We have people from all over the US who retire here because we are a warm-weather place. We have retired NASA engineers and construction supervisors and people who've never worked outside the home who are part of the program. It's for everyone."
For more information on the COM 50 Plus Program, call 409-933-8226 or visit www.com.edu/50plus.