HVAC students prepare for in-demand field
Apr 5, 2016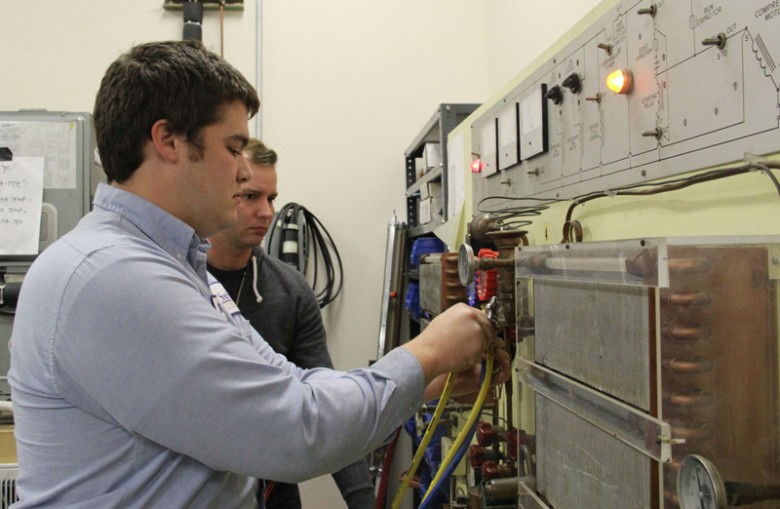 Summer is coming and with it the need for qualified air-conditioning technicians.
College of the Mainland trains individuals to work as heating, ventilation and air-conditioning technicians in a hands-on program that's less than a year.
Graduates find ample opportunities in the greater Galveston/Houston area.
"We live in the AC capital of the world. Whether you do commercial, residential or industrial, they'll always need help," said Ernie Martinez, a COM HVAC instructor who also works for the Hunton Group. "This time of year, companies are ramping up employees."
The Gulf Coast Workforce Development Board projects that by 2022 opportunities for HVAC technicians will increase 25.7 percent. The median hourly wage is $20.04, according to Workforce Solutions.
"The need for HVAC service technicians is not dependent on oil prices. In a way that's a safe guarding your employment," said Martinez, adding that industrial and medical facilities with sensitive, critical equipment have to be continually climate controlled.
The program prepares students for entry-level employment, and Martinez encourages students to look for apprenticeship and internship opportunities as well. COM works closely with employers who are hiring, such as B&MS Construction Inc. and Alex Air Conditioning.
"We make the correlation between what we study and real life," said Martinez. "For instance, their homework may be to go home and draw out a schematic of their home AC."
Hands-on classes focus on work with compressors, circuits and air-conditioning components.
"I put a meter in students' hands, and we identified the electrical components of an HVAC system. We can calculate a unit's efficiency using math and science theories such as Ohm's Law," explained Martinez.
Students may qualify for financial aid through Workforce Investment Act, Texas Public Education Grants and for veterans Hazlewood Grants. Scholarships are also available. The Gulf Coast Ready to Work grant is another source for paid tuition, training and internships.
Students do not have to take placement tests to enter the program.
For more information on the COM HVAC Program, visit www.com.edu/hvac or call CE Industrial Workforce Programs at 409-933-8406.