Records specialist guides students in admissions process
Jan 20, 2016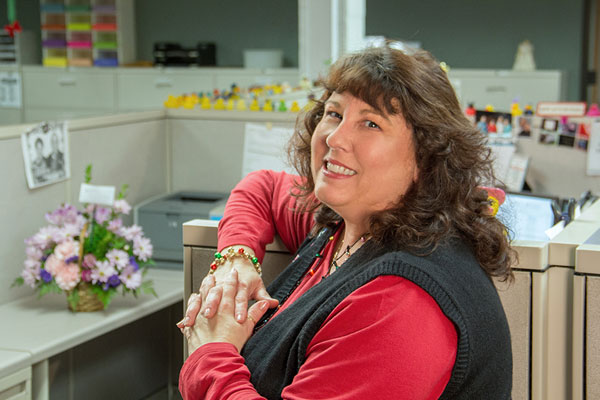 Often one of the first faces new COM students see, Chris Rushing supports the Admissions and Records Office by answering students' questions when they call or visit.
"I like working with students," said Chris. "Our office is students' first stop and we get a chance to make their first impression positive."
Chris helps students apply to the college and submit all documentation, such as placement testing and meningitis immunization records for those under 21. She helps all students – from those returning to school after decades to those in dual credit courses – apply to the college and register for the classes they need.
"It's a constant influx of people applying every day," said Chris. "We ensure each student is processed in a timely manner and gets quality service."
She also works behind the scenes by processing applications, evaluating transcripts and placement testing, and updating immunization records. Working in the department that houses records on all the students in COM's nearly 50-year history, Chris helps students submit the documents required for registration.
"There's a little detective work sometimes," said Chris. "I like to look at student records and admissions as a big puzzle and help them register."
A lifelong Texas City resident, Chris supports the community.
"I've seen people I went to school with come to COM and now I see their kids coming," said Chris, who previously worked for the city of Texas City.
She does it all with patience.
"She's always very good about taking time to talk with students and explain information to them," said Laura Divine, COM registrar. "She's very friendly and goes above and beyond for students."