COM police chief featured in national magazine
Jan 13, 2016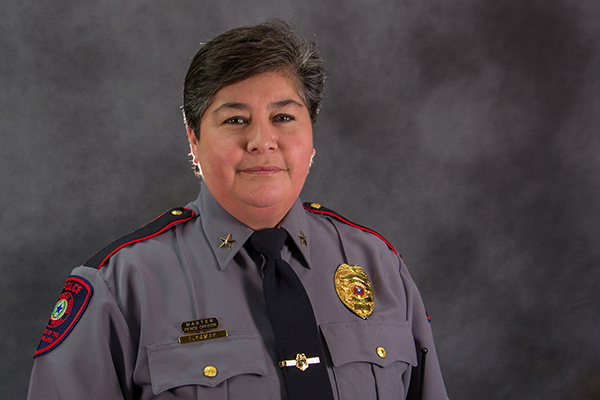 For her advancement of the department and collaboration in the community, College of the Mainland Police Chief Sylvia Chapa was featured as a "Leader and Innovator" in this month's issue of the national magazine Campus Security Report.
Interviewed by editor Joan Hope, Chapa detailed her changes in the department in the little over a year since she was promoted to police chief.
"I want to take advantage of our small community and be approachable," said Chapa. "We have to work with our community."
Among her goals are making the COM police force a trusted resource for students, adding training for her staff and individuals on campus, and collaborating with other local law enforcement agencies.
The article described her proactive approach to police work.
"Chapa is building relationships on campus so that students and others will think of her officers as friends and resources if they need help," wrote Hope. "She visits classrooms, encourages students to put her department's phone number in their contacts, and started a Facebook page where she could post positive information about her unit."
Working closely with COM President Beth Lewis and COM Emergency Management Coordinator Trish McIntosh, Chapa recently conducted scenario training for COM administration.
"Chief Chapa is the consummate professional," said Lewis. "She protects and serves in a variety of ways, always with educating the students, staff or community about the best way to approach a situation, whether it's a student behavior disturbance or abandoned ducklings. She is calm when dealing with conflict, and her level-headedness and keen problem-solving ability make her a good sounding board."
COM police staff, currently numbering seven, are completing ALERT training on responding to an active shooter. They practice monthly on COM's shooting range.
"When I was contacted by Dr. Hope, I saw that our hard work is paying off and making a difference," said Chapa. "I can see myself and my staff coming together."
A protector of all on the COM campus, Chapa has also created the COM Duck Whisperer Facebook page, filled with photos of campus ducks she observes and occasionally rehabilitates.
Published by John Wiley and Sons, Campus Security Report covers news and strategies to prepare campus police officers to keep everyone safe during emergencies. Columns include Leaders and Innovators, which highlights experienced leaders in the field and offers expert advice.