17 graduate from COM Peace Officer Academy
Jan 7, 2016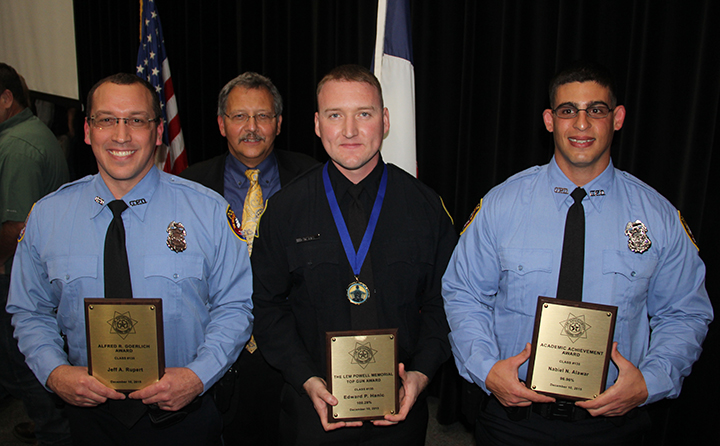 A total of 17 cadets are ready for the call of duty after graduating from the College of the Mainland Basic Peace Officer Academy.
Completing over 750 hours of training and passing the state licensure exam on the first attempt were Nabiel Alawar, Brian Ali, Bryan Barnard, Mitchel Barton, Taylor Brands, Stephen Brennan, Hilary Burke, Jessica Cano, Edward Coronado, Raymond Garivey, Edward Hanic, Marc Healy, Liliana Mahmood, Matthew McInnis, Victor Medina, Jeff Rupert and Daniel Wilkerson.
For his leadership and service, Jeff Rupert, of Clear Lake, earned the Alfred R. Goerlich Award, named for a COM graduate who was diagnosed with stage 4 cancer mid-training and pinned with his badge on his deathbed.
"This man has been a godsend to me. He kept me abreast of what was happening," said COM Director of Law Enforcement Thom Karlok. "Jeff kept me informed on all cadet academy related concerns, as well as their schedules, since some cadets attempt to obtain employment while attending the academy."
Rupert, who was hired by the Galveston Police Department and sent to the COM academy, spoke on behalf of the class at graduation and thanked the COM instructors, who are all currently working or are recent retired law enforcement officers.
"Not one of us here could have made it without their support and guidance. We've been guided by some very excellent people who shaped our minds … and inevitably shaped our careers as police officers."
Daniel Blackford presented the Lem Powell Top Gun Award to Edward Hanic, of League City.
"In practice the class shot 14,550 rounds, about 856 rounds per student," said Blackford. "The class shot well over 90 percent (accuracy) for qualifying scores. There was one person who shot a little bit better – Edward Hanic."
Acing the program's many tests and quizzes on law and the role of a peace officer, Nabiel Alawar, of Texas City, won the Academic Excellence Award for earning the highest grade point average for the class.
"This cadet has not disappointed me. He's been on top of the list since almost the first day," said Karlok.
Established more than 40 years ago, the COM Basic Peace Officer Academy forms the cornerstone of the COM Law Enforcement Program. The semester-long academy meets the training requirements of the Texas Commission on Law Enforcement. For more information visit www.com.edu/law-enforcement.