Veteran and author shares experiences
Dec 18, 2015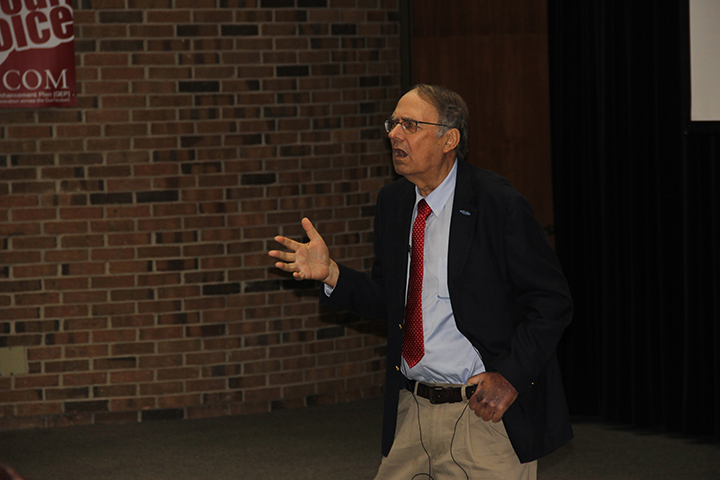 Recounting tales from his military service, giving writing tips and telling stories culled from hours of historical research, Michael Lee Lanning, retired Army lieutenant colonel, spoke to a crowd at College of the Mainland as part of COM's International Speaker Series.
Explaining his journey as an author, Lanning discussed his first writing methods.
"I wrote my first books in longhand because I was in the army," recalled Lanning. "I did it on the hoods of jeeps. I went to bars a couple hours early and wrote."
Lanning retired after more than twenty years in the U.S. Army, during which he earned the Senior Parachute Badge, the Defense Meritorious Medal and the Bronze Star, among other honors. He served across the U.S., in Southeast Asia and in Germany. In Vietnam he led an infantry platoon, reconnaissance platoon and rifle company.
Now he spends hours scouring records to write military histories, three of which have been translated into 11 languages in 13 countries.
"It was fun researching. It was like a treasure hunt," said Lanning.
For one book, "Vietnam at the Movies," he watched over 400 films on the Vietnam War and critiqued their accuracy.
One of his recent books "At War With Cancer: One Couple's Strategic Battles for Survival Using Both Traditional and Alternative Treatments" discusses his kidney cancer and the health choices (such as eating wheatgrass) he's made to combat it.
"When you're a writer, you never have problems; you have writing opportunities," said Lanning. "If you're going to write nonfiction you need life experience, military or whatever you can do."
He encouraged students to tackle school and personal projects a bit at a time.
"No one can write a whole book, but all of us can write two to three pages a day," said Lanning.
The COM International Speaker Series strives to bring world-renowned guests to educate COM students, staff and the community.