Jobs await COM mechanical maintenance students
Dec 16, 2015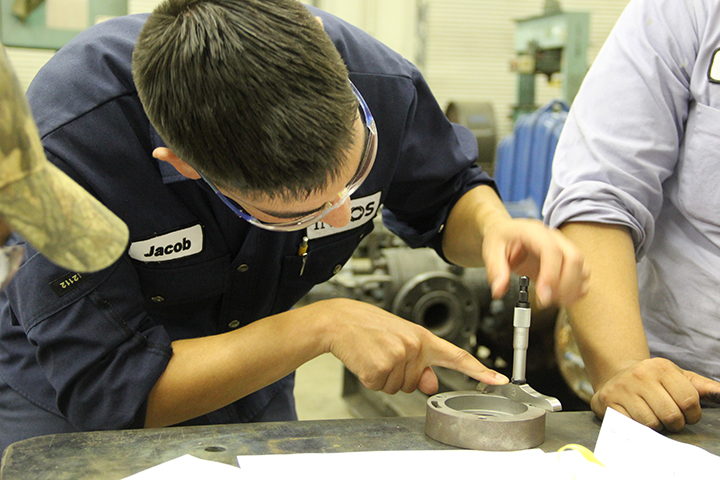 Students in the College of the Mainland Mechanical Maintenance Technician Program find that their high-level skills can open doors even before graduation.
Rapid growth in the petrochemical industry is fueling demand for mechanical maintenance technicians and millwrights to build and maintain new and expanding facilities along the Gulf Coast.
Shane Reed, of Pearland, and Jacob Brown are two students hired by INEOS Olefins and Polymers USA while still attending classes.
"When I came my first day (to class), a guy from INEOS showed up and said they were looking for apprentices," Brown explained. "I applied and three months later got the job.
"So long as I finish the (COM) program, I will be hired with full pay. Today we get benefits, health care and 401K. We get all the perks."
While working full-time, Brown and Reed attend classes two evenings per week. The apprenticeship and COM classes work in tandem to teach them in-demand skills.
"New plants are coming, and they are looking for people to build and maintain their equipment," said Laura Baumgartner, director of COM continuing education workforce programs. "The focus will be on new construction projects in the petrochemical field, which could generate 15,000 plus jobs in the Texas Gulf Coast area."
The growth is part of a statewide surge in demand. According to Texas Workforce Solutions data, the need for industrial machinery mechanics is projected to increase 41.5 percent.
To begin the program, students enroll in the Mechanical Maintenance Basic Certificate, offered every semester.
"This is a basic introduction to mechanical maintenance," said instructor Rick Lopez, who draws on 40 years' experience as a supervisor and machinist at Monsanto Co. and Eastman Chemical Co. "We're covering gearboxes, compressors and turbines. Students get used to taking things apart and putting them back together."
The Mechanical Maintenance Basic Certificate unlocks two opportunities – the Machinist and Mechanical Maintenance Technician Programs.
The Machinist Program trains students to use power-operated tools to produce precision metal or plastic parts that mechanical maintenance technicians use. The average machinist earned $18.95 per hour in 2011, according to the Gulf Coast Workforce Board.
The COM Mechanical Maintenance Technician Program, now registering for spring classes, teaches students how to conduct preventative maintenance, troubleshoot and repair machines such as compressors, turbines and gearboxes. After completing the program, students may be hired for positions as maintenance technicians or millwrights.
The median hourly wage for mechanical maintenance technicians (also referred to as industrial machinery mechanics) is $23.23, according to the Gulf Coast Workforce Board.
As the industry demand increases, both the Machinist and Mechanical Maintenance Technician Programs look to industry to dictate instruction.
"We ask industries in the area to sit on the advisory council," said Baumgartner. "They direct us in curriculum development and explain the workforce skills needed in the industry. Many advisory council members are adjunct instructors for our programs and provide a wealth of experience and knowledge to our program."
Brown and Reed look forward to continuing opportunities in the field.
"(INEOS is) constantly looking for people," said Brown.
For more information visit www.com.edu/ce or call 409-933-8586.