Veteran to graduate at 73, despite tumor
Dec 15, 2015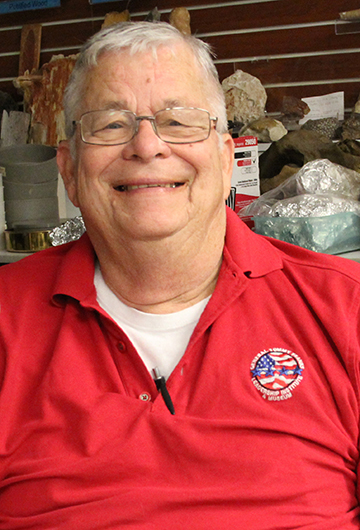 Graduating from the COM Basic Peace Officer Academy at age 64, Elmer Venzke, now 73, is again beating the odds.
He's on track to graduate with an associate degree in May 2016, nearly ten years after he first graduated from the academy.
A Navy veteran, Venzke first began his college education at his family's encouragement after he retired from Southwestern Bell.
"My son said, 'If I can pass the police academy in Houston, you can pass it out here.' He drug me out here for my (police academy) interview," said Venzke.
Venzke enrolled in COM's night police academy, taught by former and current police officers.
Partway through the nine-month academy he had a health scare – when he began coughing up blood, tests showed a growth in his lung, possibly a tumor.
It didn't slow him down.
"The surgeon removed (the growth) on Tuesday. I got out of the hospital on Friday and went to class on a Monday."
He went through all elements of the academy, including getting a face full of pepper spray.
It paid off – he graduated, passed the state certification and is now a current reserve deputy for the Galveston County Sheriff's Office working in criminal investigations.
And he's back in the classroom, this time to earn an Associate of Applied Science in criminal justice. His police academy credit counts toward the degree, plus he's plunging into Math, English, history and speech.
"I've never done a public speech. I was nervous as a cat," explained Venzke, who spoke on why he wears a bullet-resistant vest as a police officer.
He admits challenges.
"I dropped algebra 1 twice. (Instructor) Martha Wiseman helped me bring up a failing grade to a C," said Venzke. "All the Speaking, Reading and Writing Center staff I'm on first name basis with. If you need help, it's there if you ask for it."
His family also encouraged him.
"There were times I said I don't know why I'm doing this. My son and my wife stayed on me. (My) wife says, 'You've come too far, why quit? You'll regret it for the rest of your life,'" said Venzke.
He's persisted and excelled. He's earned a 3.5 GPA, qualifying for Phi Theta Kappa, the international community college honor society. He assists classmates as well.
"Elmer's wide range of experience is a valuable contribution to the class," said speech professor R.E. Davis.
Near graduation, Venzke is speeding toward the finish.
"You have to fight for everything you get.," said Venzke. "(It's) rewarding just being able to learn something."