Three-hour art contest names winners
Nov 24, 2015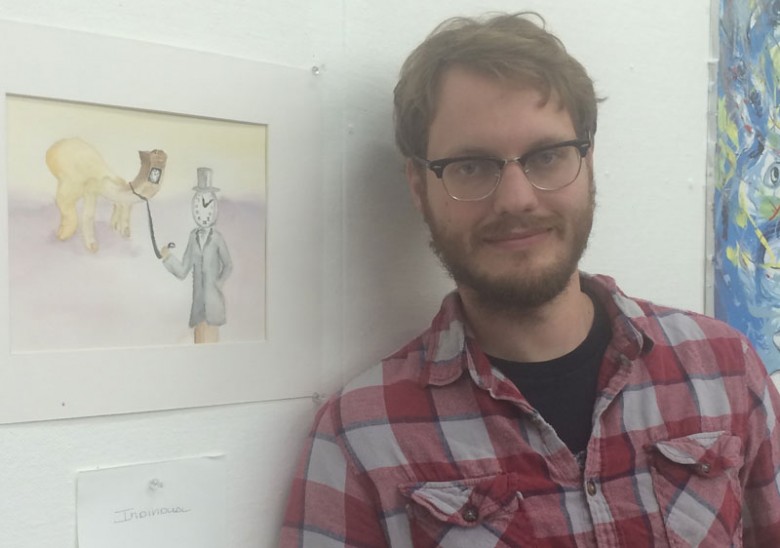 Art students had three hours, two piles of recycled materials and one theme: the architecture of the mind.
At College of the Mainland's Art Bout, sponsored by the Gulf Coast Intercollegiate Consortium, students from COM, San Jacinto College South and Brazosport competed in group and individual projects to present their view on an topic open to interpretation.
"It's amazing to see what happens in three hours when someone hands you a basketball and paint," said Jason Dibley, from the Museum of Fine Arts, Houston, who judged the contest. "It's great work."
Chau Ha, from College of the Mainland, won first in the individual category for her zip-tie and craft-stick nonrepresentational model.
"I wanted it to be simple," said Ha. "If you have a light here, the shadow makes movement."
Second place in the individual category went to Alex Salazar of Brazosport College, who mapped his mind in a puzzle piece sketch, labeling each section from "sleep" to "superheroes" to "???."
"Everything on here I love," said Salazar, pointing to his mind map sections. "I've been drawing my whole life."
Brandon Ruhmann, of Brazosport College, won third place in the individual category for watercolor depicting a clock-faced man walking a hand with a clock on the middle finger.
"I took 'the architecture of the mind' (theme) a little loosely, so it's a dreamscape. I'm a big fan of Salvador Dali," said Ruhmann.
Winning first in the group category, Ali Vanderhider and Connor Davis, of Brazosport College, together painted a brain weighed down by skyscrapers and inhaling pollution.
"We've worked on stuff together before. I came up with the original idea, and he came up with the smoke and buildings," said Vanderhider.
Winning second in the group category, COM students Raul Duke, Rosie Rodriguez, Callie Rankin, Bibiana Bravo and Bo Dalme created a six-foot sculpture laced with painted and papered whiffle balls.
"We aggressively discussed ideas," Rankin said of their creative process.
Third place in the group project went to Smita Karihaloo, Jeri Venegas and Barbara Aldana, from San Jacinto College South, for a mechanical-looking eye held together with zip ties.
The contest is one of the ways that COM invites students interested in art to explore creativity. The college also hosts all-night draw-ins, field trips and student and faculty art exhibitions.
For more information about art at COM, visit www.com.edu/fine-arts or call 409-933-8348.