Scholarship recipient: "I want to inspire kids"
Nov 10, 2015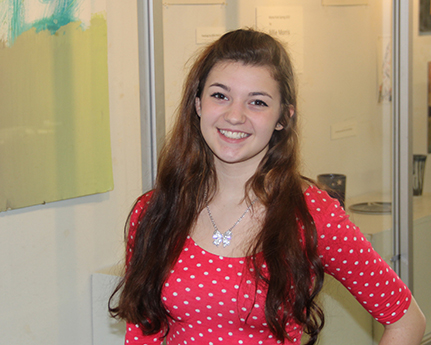 Earning a College of the Mainland Foundation music scholarship for books and tuition, Candace Long wants to share her love for music.
"I've always loved music," said Long, a COM dual credit graduate. "Music is teamwork along with critical thinking."
Playing flute since sixth grade, Long joined the marching band at Dickinson High School and now sings in the Mainland Chorale at COM.
"It's more traditional choral music, some in Latin. It's fun learning new languages (and) the four-part harmony," said Long.
Her favorite is Handel, particularly "The Messiah."
"Sopranos are angels, and basses represent devils in some songs," said Long. "Performing is exciting. I'm showing people what I love to do."
She plans to earn an Associate of Arts in music and work toward a bachelor's degree in music.
"She has a fine voice," said COM choir director James Heffel. "It's students like her who make us glad to do what we do. She'll make a tremendous teacher of music, whichever level she chooses to teach."
In addition to choir, Long takes music theory and education courses.
"She is an A student. She deserves this scholarship based on her academic and musical ability," said Sparky Koerner, COM Fine Arts Program chair.
Long aims to be a choir director.
"I want to inspire kids with music," said Long. "If I make it fun at a young age, there will be more musicians later."
For more information on the COM Music Program or choirs, visit www.com.edu/music or call 409-933-8348.