COM graduate behind the scenes at Channel 8
Nov 9, 2015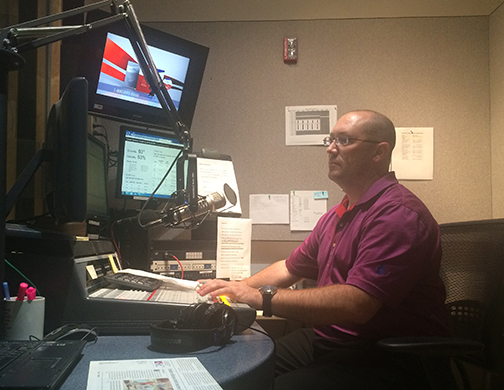 Broadcasting Big Bird and big news, Houston Public Media manages 91.7 FM, 88.7 FM and TV channel 8 (PBS).
While TV and radio personalities are on air, Mark London is behind the scenes helping ensure that all computer networks function.
"On air you don't have a long time to figure a problem out," said London. "They're on the phone and you have to fix it within a minute."
Troubleshooting, managing computer networks and creating Internet connections, London's role now is a far cry from his first career as a scientific and recreational diver.
Looking for a change in 2011, he took two College of the Mainland classes, Microsoft SQL Server Database Fundamentals and Introduction to PC Hardware and Operating Systems. Classes prepped him to pass Microsoft certifications required by industry.
Opportunity struck while he was a student when Texas First Bank as part of a COM internship hired him to convert all its branches' systems from Windows XP to Windows 7.
After London completed his second certification, Houston Public Media recruited him.
"I'm happy to be able to implement what I've learned to make other people's jobs easier," said London.
Each class within the one-year networking certificate prepares students to take an industry certification exam, which employers often require of new hires. Students also apply for co-op experience at a local business, which London completed, working part-time to gain experience.
"Networking is the heart of IT," said London. "IT is one of the fields that continue to grow and networking in particular. You can't have an IT system without having some form of server to communicate with."
After completing the COM networking certificate, students may enter the workforce as network administrators or computer support specialists.
"I've always been astounded at how after taking just two classes, I've been able launch a new career," said London.
For more information on COM networking classes, visit www.com.edu/cis or email Fay Alexander at fbryan@com.edu.