COM fifth in nation for science technology grads
Oct 23, 2015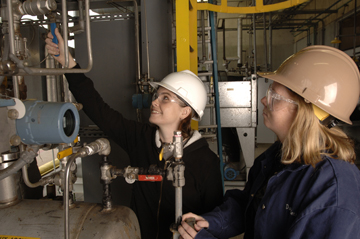 As industries expand on the Gulf Coast, COM is helping meet industry demand. The college graduated the fifth most students with science technologies/technicians degrees in 2014, according to a recently released Community College Week report.
COM graduated 74 men and 12 women, a total up nine percent over 2013.
"It's an extremely high-demand field. Our graduates are hired at industries across the Gulf Coast," said Jerry Duncan, department chair of industrial careers.
The COM process technology program, established 20 years ago, trains students in math, chemistry and physics as well as plant operations through hands-on classes and labs.
"We have a strong, rigorous program," said Duncan. "All of our professors have 20-plus years of experience in the field. That's part of what makes our program unique."
COM grads with technical degrees earn $73,509 – the highest median salary of any new university or college graduate in the state, according to a study by College Measures. They are in demand in a variety of industries, including petrochemical, oil and gas, and energy.
Through partnerships with industry, COM provides students the opportunity to tour plants, apply for internships and join in mock job interviews. A panel of industry professionals also reviews curriculum to ensure students are prepared for the workforce.
For more information about the COM PTEC Program, visit www.com.edu/ptec or call 409-933-8536.