COM student nabs national Shell Scholarship
Oct 19, 2015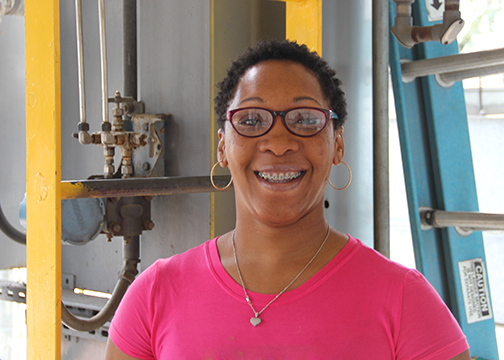 Winning the Shell Scholarship, a national competition, Monique Jordan, of Hitchcock, is proud of the example she's setting for her children.
"My son tells me all the time, 'I'm proud of you,'" said Jordan. "My daughter wants to come to school with me. She thinks we have naptime."
Jordan will be the first in her family to graduate from college. The Shell Scholarship, in addition to a previous scholarship from COM Foundation, will assist her in reaching her goals.
"I was able to buy myself a laptop that I needed that I could not have gotten without it," said Jordan.
To be eligible for the Shell Scholarship, students must be enrolled in a two-year technical degree program and have a GPA of greater than 2.5.
A litany of experiences brought Jordan to enter college at age 31 – six years in the army, marriage and two children left little time for school. After a divorce and learning the salary a process technician can earn, she determined to graduate with an associate degree in process technology.
Juggling work, family and school, there were days she contemplated giving up, but she persisted.
"(English professor Dalel Serda) picked me as an A student after that first paper. She pushed me and pushed me," said Jordan. "She said you've come through too much –divorce and coming back to school. Why give up now?"
Jordan also credits Psychology for Success for teaching her about "pushing through when you want to give up."
Jordan helps others through the COM Work-Study Program, where she works in the gym and as a tutor for other process technology students.
"She earned an A in my class so I asked her to apply for the tutor position. She did very well in math," said professor Al Jivan.
Jordan enjoys assisting others by explaining math and sharing her story.
"There's a girl fresh out of high school I'm coaching in physics," said Jordan. "I told her I feel like if I can do it and I graduated in 2000 and have kids, someone who graduated last year can."
The COM Process Technology Program is preparing Jordan to enter a field with growing opportunities.
"You never know what tomorrow brings," said Jordan. "I'm more prepared. I feel like I'm able to take care of my kids versus relying on someone else."
The COM Process Technology Program trains students for industry through hands-on classes, labs and working on the college's glycol separation unit. Industry professionals partner with the college to provide job interview practice for students, curriculum advice and plant tours. For more information on the COM Process Technology Program, visit www.com.edu/ptec.
For more information about assisting COM students, visit www.com.edu/com-foundation.