TRiO grant renewed at COM to support first-generation college students
Oct 2, 2015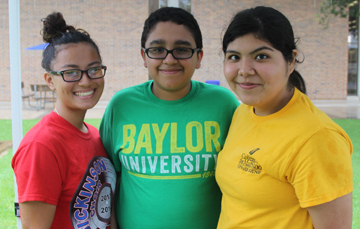 A federal TRiO grant of over $1.2 million dollars has been renewed for the Student Support Services Program at College of the Mainland, which helps students with school supplies, tutoring and mentors. The grant totals $245,414 per year for five years.
"We focus on creating home away from home. We have a private computer lab and lounge," said Ciro Reyes, director of COM TRiO programs. "We want to make sure students are successful."
Offering progress reports, academic workshops, tutoring and additional advising, the program supports students as they plan their classes and throughout the semester. It also provides practical help such as offering a laptop-lending program and providing school supplies.
"They help me in every way possible," said Student Success Services student Carla Sanchez. "They gave me a backpack and supplies. Mr. Reyes was like a fatherly figure, pushing me. I don't think I'd be here without them."
Seeking to create well-rounded students, the program also takes students to places such as the Holocaust Museum in Houston or "Phantom of the Opera." The program encourages students to earn a bachelor's degree after an associate degree, and staff accompany students on tours of four-year schools and assist with the university application process.
The grant began at COM in 2001.
For more information, call 409-933-8273 or visit or email creyes@com.edu.