In months, COM students transform from dropouts to graduates
Aug 13, 2015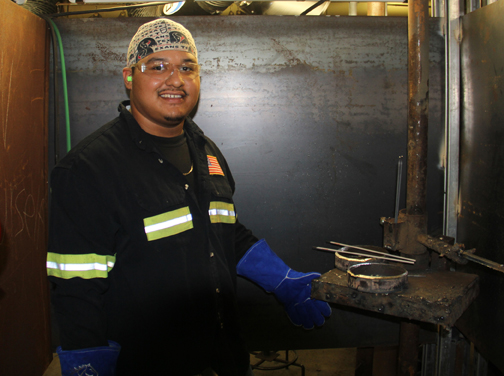 After three months, two certificates and one job, Michael Rios' life has changed.
Rios came to College of the Mainland without a high school diploma.
"I was going down the wrong path. I postponed college," said Rios.
He began taking welding and GED classes simultaneously, paid for through the Accelerate Texas Grant.
A few months later, he landed a job as welding helper at Ohmstede in La Porte. He later was promoted to welder.
"The first time I got paid, I've never made a check like that in my life," said Rios. "I've bought a new car and motorcycle and helped (my mom) buy another one."
While Rios pursued welding, Angela Vargas took a different path. After dropping out of high school, Vargas worked her way up to manager of a convenience store and repair garage. However, when the store was sold, she was laid off.
"I was crying and I felt like it was the end of the world with no job and no schooling behind me," said Vargas. "I dropped out of school in the middle of 11th grade year, biggest mistake of my life."
She came to talk with COM career navigator Roger Mora.
"He helped me through it," said Vargas, who at Mora's encouragement enrolled in the GED/workforce program.
She first earned a medical billing and coding certificate, but struggled with the math GED test.
"With math, it was six times before I passed. I wanted to get it so I could get in college and prove to myself I could," said Vargas. "(Roger) was the first person I called when I got my GED."
Rios and Vargas are not alone. A total of 148 students have come through the COM program, which allows students lacking a GED or high school diploma or with limited English skills to start job training now.
Students may earn business; welding; medical coding; certified nurse assistant; machinist; or heating, ventilation and air-conditioning certificates while working toward their GED certificate.
The program offers scholarships covering tuition, books and fees for students who qualify.
"The main goal of this program is to get students another credential and a job," said Career Navigator Roger Mora. "English as a second language students get motivated because they realize that they can do this."
For more information on the COM Adult Education Program, visit www.com.edu/adulted.