COM grad at 19 creates apps, websites
Aug 12, 2015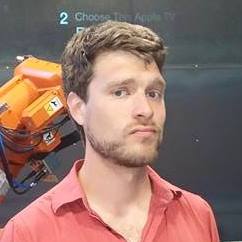 At age 8 Preston Temple began tinkering with computers, creating simple programs on a clunky Apple II.
Technology intrigued him, and at 15 he enrolled as a full-time student at College of the Mainland.
"I sat in on a Flash class, and I decided this is what I want to do," said Temple.
At 19 he graduated with an Associate of Arts in graphic design/web design.
Now he creates Web apps for his company, imajn.
"I feel like (COM classes) prepared me very well. I get a lot from having a good graphic design background," said Temple. "The rapid course structure taught me (to have) a good pace in the workplace. The instructors all shaped who I am in a positive way."
After graduation, he worked as a web developer for the School of Nursing at the University of Texas-Medical Branch.
"He was ready to get out in the workforce," said instructor Coleena Jackson. "He absorbed information so well."
One of his first apps, created as a contract project, was Harborlights, which was used by the Greater Houston Port Bureau and Houston Vessel Traffic System.
"It allowed them to keep track of thousands of ships in the Gulf Coast and departure times and schedules," said Temple.
He also created a storybook app, Chimps Should Be Chimps, with sound effects, pop-out facts and Easter eggs to educate kids on the life of chimps in the zoo.
Besides creating apps, he taught as an adjunct instructor for COM.
"It was a lot of fun. I mostly taught interactive multimedia, Flash classes," explained Temple.
Temple sees the technology industry as a vehicle for ingenuity.
"If you enjoying making things work, go for it," said Temple. "Every job is a chance to use more tools. I treat everything as a learning opportunity."
For more information about COM graphic/web design classes, visit www.com.edu/graphicdesign.