COM machinist program trains for industry demand
Aug 7, 2015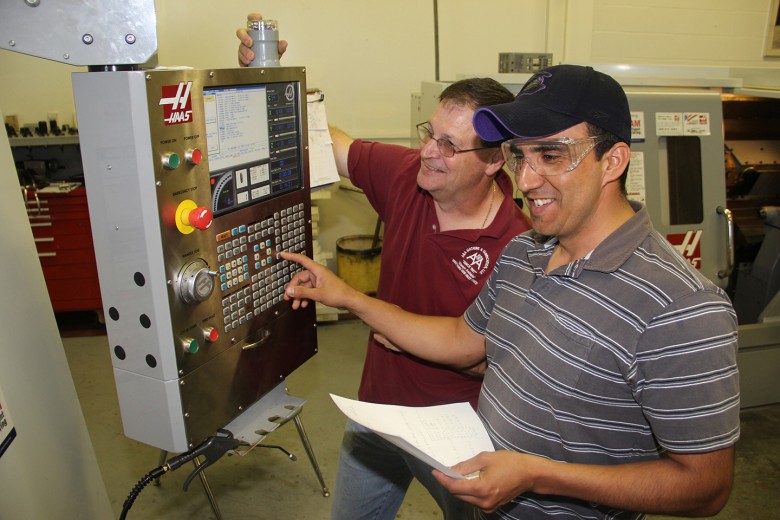 From the titanium screws used in orthopedic implants to steel hardware, machinists craft the building blocks of our world.
The College of the Mainland Machinist Program, now open for registration, trains students for in-demand, high-paying jobs along the Gulf Coast working with machinery.
Student Indalecio Flores of Houston, enjoys crafting parts with precision.
"This paper is 3/1,000th of an inch (thick)," explained Flores. "If the part is (supposed to be) three inches, it can be no bigger than 3 and 3/1,000th of an inch or it's no good. You've got to have a passion for this to get it right every time."
Troy Gibbs, a manager at his family's business, Accurate Machine Shop in Alvin, is taking classes to learn about how to work a mill.
"It's really neat to be able to take a raw piece of material and change it to suit your needs," explained Gibbs. "(Clients) will bring a drawing in and ask me to make it, and if I have tooling, I can make it."
In each class, students learn the formulas to program the machines before heading to the lab for three hours of training with computer-controlled (CNC) machine tools. Students discover how to set up, operate and disassemble mills and lathes.
COM instructor David Barrett has worked in a machine and fabrication shop for 30 years and manages both manual and CNC machinist for A&A Machine and Fabrication. Barrett teaches from his wealth of experience.
"If you don't get it, Mr. Barrett will sit with you until you figure it out. He's really patient," said student Shane Roberts, of San Leon.
COM machinist graduates are sought after in many industries including energy, manufacturing, and oil and gas under titles such as CNC lathe operator, brake press operator and machinist.
"The job market is changing and so are the demands for mechanical and technical skills," explained Laura Baumgartner, COM Director of CE Workforce Training. "COM works hard to provide courses for students to meet the needs of industry."
As the field changes, COM seeks additional experienced instructors to train the next generation of machinists.
"We employ part-time instructors who have either retired or still work in the field," said Baumgartner. "I can't tell you how fortunate the college is to have instructors who live and breathe the craft. They bring years of valuable experience to the classroom that leaves an impression on students."
Demand for machinery mechanics, maintenance workers and millwrights is projected to increase 30.9 percent from 2012 to 2022, according to the Gulf Coast Workforce Development Board. The median hourly wage is $18.95, according to the Texas Workforce Commission.
Financial aid is available to students who qualify through the Gulf Coast Workforce Development Board and Texas Public Education Grants.
The program recommends that students first complete the Mechanical Maintenance Technician Basic Certificate, with courses starting every eight to 10 weeks.
For more information, call the COM Continuing Education Department at 409-933-8586 or visit the website at www.com.edu/ce.