No topic off limits at COM workshops for middle schoolers
Jul 7, 2015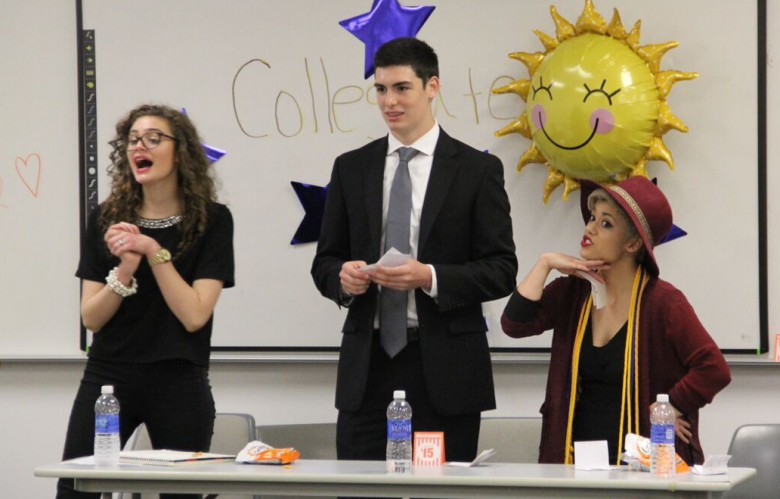 "What do I do if someone wants me to do drugs?" Scribbling anonymously on slips of papers, students asked their often unspoken questions during the first-ever leadership conference "Know the Difference, Be the Difference" facilitated by the College of the Mainland Collegiate High School students.
"They really opened up and we opened up," said COM Collegiate High School student Natasha Jacobsen.
A total of 167 students from Crosby Middle School in Hitchcock ISD, Renaissance Academy in La Marque ISD and Premier Learning Academy chose two of five sessions on hot topics: bullying, social media, peer pressure, communications and self-motivation.
"I need that," said Sylvia Parkin, a ninth grader at Renaissance Academy who attended a session on self-motivation. "It's going to help me be a better person."
The project was spurred by COM instructor Regina Julian, who teaches the college and career class at COM Collegiate High School.
"We chose topics appropriate for their age range. You have to think about your audience and what affects them," said Julian, who had CHS students run practice question and answer sessions in class.
During the self-motivation session, student Carla della Femina also shared her story of entering COM Collegiate High School and earning an associate degree while completing high school.
"We tried to get in their minds and remember what we were like in eighth grade and what we wanted to know," said della Femina.
Speaking passionately before 20 students, she offered her advice:
"I think instead of asking 'What do we want to do?' we have to ask, 'Who do we want to be?' Character will take you places.
"The biggest killer of motivation is comparison, so run in your own lane. Don't worry about what's going on to the right or left. It leads to pride or despair because they are so much farther along."
Twirling her honor cords symbolizing membership in the national honor society, COM Collegiate High School student Jasmine Cruz exuberantly spoke. She felt she gained as much from the experience as the middle school students.
"I thought that I was an introvert, but I was scared to express myself," said Cruz. "It felt liberating to be there today. It was a little personal victory."
Enjoying the best of both worlds, COM Collegiate High School students attend all classes at COM while still participating in extracurricular activities at their current high school. Plus, CHS students have access to all COM student resources, events and activities. The CHS program is available to Clear Creek, Dickinson, Friendswood, Hitchcock, La Marque, Santa Fe and Texas City ISD students and those from Premier Learning Academy, Odyssey Academy and private and home schools.
For more information, visit www.com.edu/chs.