COM greenhouse gets automatic sprinkler system, thanks to student
Jun 24, 2015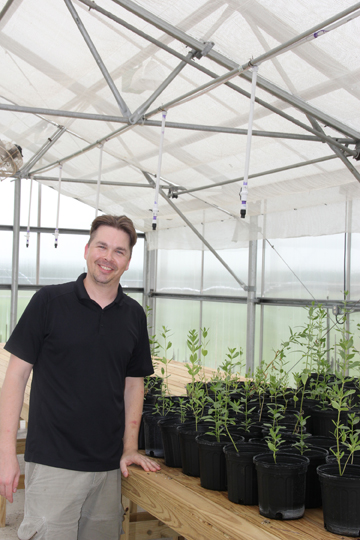 Native plants in the College of the Mainland greenhouse are flourishing under an automatic sprinkler system donated by recent College of the Mainland graduate William Manes.
"I can't even say how needed it is with the heat. Plants dry out quickly," said COM biology professor Sheena Abernathy.
Manes took biology with Abernathy and learned of the COM project to grow native plants in the greenhouse that students collected from the Texas City Prairie Preserve. Students will later transplant them to the Rookery Islands, where they will be home to nesting birds such as herons and gulls.
Manes, who graduated in May with an associate degree in general studies, donated the parts. He and his employees at his company, U.S. Control Services, spent about eight hours installing the system covering 300 square feet.
"I wanted to do something for the college that would be there long after I'm gone," said Manes. "I saw an opportunity to do something that wouldn't take my company very long. I saw potential."
For more information on the Rookery Islands project, contact Abernathy at sabernathy@com.edu.
If you are looking for ways to give back, contact COM Foundation at www.com.edu/giving.