COM Collegiate High School students in top 20 at Dickinson
May 14, 2015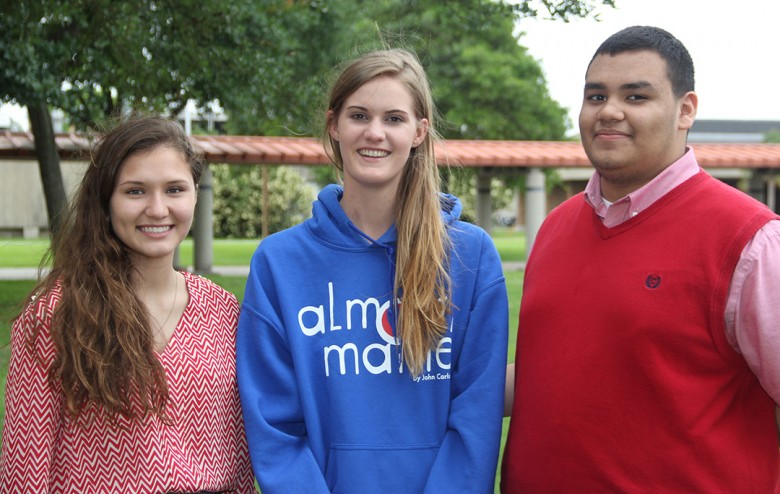 With accomplishments from power lifting to helping the homeless, four College of the Mainland students were named in the top 20 at Dickinson High School, and each honored a "Seed Sower" teacher who impacted their life.
Cortney Holmes, Jalyn Howell, Abraham Parada and Elyssa Davila were selected for the honor based on academic excellence, extracurricular activities, leadership and community service.
All three students completed COM Collegiate High School (CHS) and will graduate with associate degrees as well as high school diplomas this year.
Holmes, a member of high school and community college honor societies, volunteered as a peer mentor for six first-year CHS students, giving tours and assisting them throughout the semester. She selected COM professor May Carol Lieblong, who teaches the Transitions class that details how to study, apply for financial aid and select a college, as her "Seed Sower" teacher who impacted her life.
"Dr. Lieblong has … taught me to chase my dreams and never give up. She's always available to help with any issue I may have," said Holmes, who plans pre-medical studies. "(CHS is) the best decision I've made. This has definitely helped me get a head start."
Completing high school and associate degree requirements in December 2014, Howell is attending West Texas A&M this semester. She served as a sign language interpreter for the Empty Stocking holiday event at Dickinson High School, a peer mentor and a class representative while playing tennis, swimming and power lifting.
"(After CHS), I was prepared for the difficulty level of class. I was ready to work with instructors' different styles," said Howell.
She selected Susan Haynes, of McAdams Junior High, as her inspirational teacher.
"Miss Haynes helped me through difficult times when I was in junior high," said Howell. "She really listened to my issues and provided positive solutions that focused on my schoolwork and activities. She helped me realize I wanted to be a lawyer so that I might help others like she helped me."
Parada, planning to become a cardiologist, served as service and fellowship chair and secretary of Phi Theta Kappa (PTK) at COM and joined the COM Upward Bound Program for high school students who are low-income or will be first in their families to earn bachelor's degrees.
The first in his family to graduate from high school or college, he selected his PTK advisor Dalel Serda as his Seed Sower teacher.
"Professor Serda taught me to have an open mind and embrace every opportunity in life," said Parada. "She would push me to do workshops and collaborate with fellow (PTK) chapter officers. She showed me the world is big."
Planning to be a forensic pathologist, Davila played soccer, completed the Girl Scout Silver Medal, and served with Habitat for Humanity, M.I. Lewis Social Services and Trash Bash.
A member of COM Upward Bound, she selected Ciro Reyes, director of TRiO and Upward Bound, as her Seed Sower teacher.
"I've known Mr. Reyes since eighth grade," said Davila. "He's very patient and he loves helping students figure out what they want to be. He's willing to bend backward for anyone. He's helped me realize I have no limits."
For more information on COM Collegiate High School, visit www.com.edu/chs.