Sickle cell research wins at COM symposium
May 6, 2015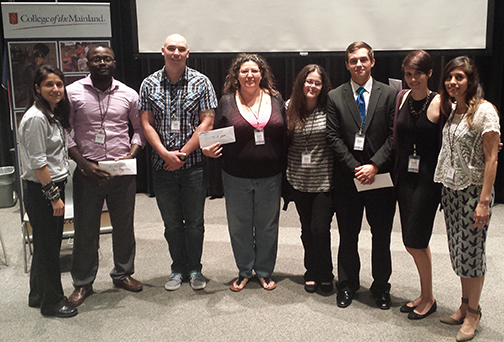 Bertrand Ebang was inspired to help research a treatment for sickle cell disease by two children - his five-year-old cousin and a seven-year old male patient at University of Texas-Medical Branch Galveston.
For presenting his work on noninvasive treatments of the disease at University of Texas-Medical Branch (UTMB), the Alvin Community College student was awarded first place in the Gulf Coast Intercollegiate Symposium at College of the Mainland on April 24.
The project "Using Ultrasound to Treat Children with Sickle Cell Disease" looked at the genetic disease that causes children to have sickle cell crisis and anemia, which often leads to frequent minute strokes that can hinder cognitive development.
The study showed Ebang's work under Ruby J. Patton, director of the Vascular Lab, UTMB Galveston, trying to prevent strokes through ultrasounds (Transcranial Dopplers).
"We scanned a number of patients (with ultrasounds)," said Ebang. "My research detailed the (progress) of a single patient who experienced major blood flow changes. The patient ... almost had a sickle cell crisis. We were successful in stabilizing the patient under the supervision of Dr. Elena Shanina. We are glad to report that due to our intervention the family hasn't been to the hospital in over two years."
Ebang will graduate in May 2015 as a registered vascular technologist.
COM student Alaina Spiers won second place for her project "Humanity's Pride and Prejudice" examining how she was treated while wearing a hijab and following conservative Muslim rules such as not going places without a female friend. She formed the hypothesis that she might get a few different looks during her week-and-a-half long experiment, which she logged daily.
"I got no smiles, no waves," said Spiers. "My log gets more and more sad. I felt invisible."
The experiment, which stemmed from a conversation with a Muslim friend, changed her views.
"It made me wonder if every stereotype I have is drastically different than what it really is," said Spiers. "It's kind of sick how influenced we are by the media and our own ignorance. There's a beauty to being human. There's a light and there's a dark."
Winning third place was the project "Artful Evolution of Alluvial Fans" by COM students Jason Hayes and Valarie Robson. The project analyzed how fan-shaped areas of sediment form at the end of streams and which forces control their shape.
"I took away the difficulty of testing a hypothesis," said Hayes, whose initial hypothesis proved incorrect. "It was exciting presenting the work and seeing people get interested. Geologists in the room … were supportive of having spent time failing and testing."
In addition, "Preservation through Art and Science" by COM student Jordan Bryan and "Utilizing Optimism: A Tool Encompassing Motivation and Academic Success" by COM student Drager Landry won honorable mentions.
The third annual Gulf Coast Intercollegiate Symposium examined the interconnectedness between art and science. This was showcased with a variety of projects presented by students and a presentation by COM art professor Mark Greenwalt, who shared his ideas on the aesthetics of information through an artist's lens and showcased some of his work.
"We had a high number of submissions," said COM professor Dr. Veronica Sanchez. "We address broad topics but students' creativity shines."
The symposium allows students to present research in all subjects to the public as well as receive feedback from professors.
"It's exciting to see College of the Mainland's students present original work to and among peers from other institutions such as the University of Houston, Alvin Community College, and Clear Falls High School," said COM professor Dalel Serda.
Dr. John H. Lienhard, professor emeritus of mechanical engineering and history at the University of Houston, was the keynote speaker. He is the author and voice of The Engines of Our Ingenuity, a program aired by Houston Public Media at the University of Houston.
For more information on the annual COM symposium, contact Serda at dserda@com.edu or Sanchez at vsanchez3@com.edu.