COM named Mother-Friendly Silver Site
May 4, 2015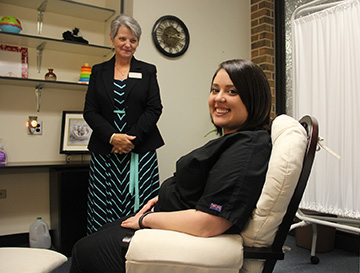 A cozy space graced with photos of sleeping infants is now available for COM nursing mothers.
The Texas Department of State Health Services has named COM a Mother-Friendly Silver Site. The college offers mothers breaks to pump in a nursing mothers room equipped with two refrigerators, hand sanitizer, educational resources and a breast pump.
"You have a nice place to relax. It's so much better than doing it in your office," said nursing lab coordinator Laura Nunez, mother to an eight-month-old, who uses the space. "It's stressful when you go a long time without pumping, which affects your supply. (This is) like a nursery."
Kathy Glynn, COM nursing professor, coordinated the room and donations.
"It's a really convenient place for most of campus," said Glynn. "It's a safe, clean, happy place for people to pump."
Mr. C's Deli and Bistro donated a fridge, Omni Fire and Security gave a gliding chair and table, Lowe's donated plants and Medela Inc. gave a state-of-the-art Symphony breast pump.
Nursing faculty contributed decorations and the Anne Geddes photos of babies filling the walls.
The space, COM Technical-Vocational Building Room 1554, is available to COM students, staff and visitors. To maintain privacy, mothers can ask Glynn or the nursing office for the access code.
For more information, contact Glynn at kglynn@com.edu or 409-933-8428, or the Nursing Office at 409-933-8426.