COM student earns international honor
Apr 27, 2015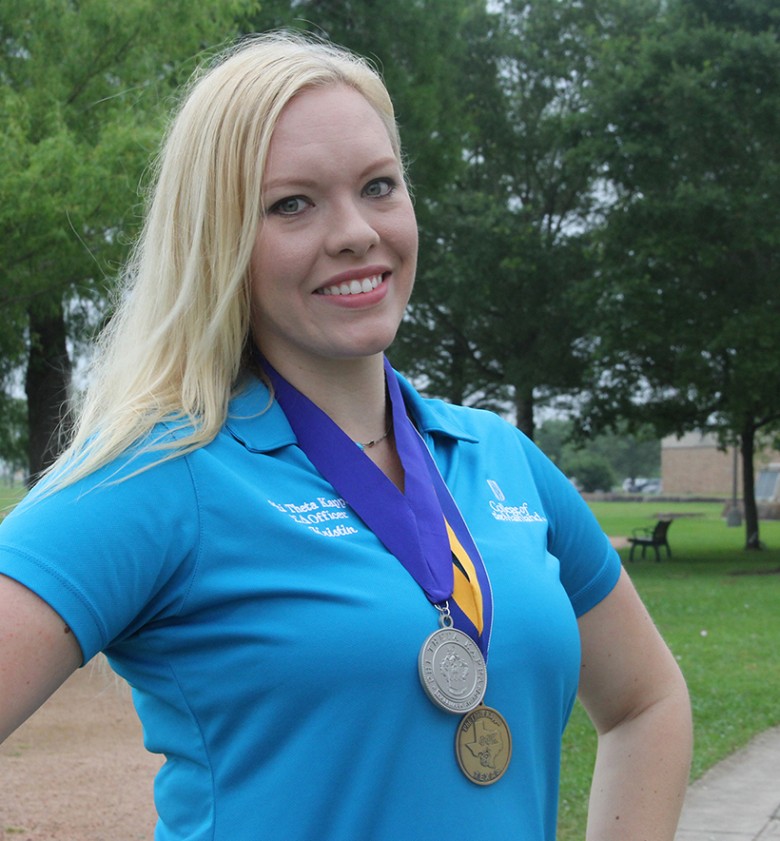 After two years in the international community college honor society chapter at College of the Mainland, Kristin LaValle sums her lessons with "Never quit."
Admitting a rocky start to college before coming to COM, the 28-year-old is now thriving as College Project Chair of the Sigma Delta Chapter of Phi Theta Kappa (PTK), the international honor society for community colleges.

At the international PTK conference NerdNation 2015, LaValle, of League City, was one of 30 PTK members around the world honored with the Distinguished Chapter Officer Award.

After LaValle's fellow officers at COM nominated her, a panel of judges selected her from more than 450 nominees internationally. Judges based the decision on demonstration of leadership, engagement in PTK and enthusiasm for PTK values of scholarship, leadership, service and fellowship.

"I'm very honored to have been selected by my team. It's a good feeling that they appreciate your work," LaValle said. "(In Phi Theta Kappa) you have the brightest students teaching you leadership skills and encouraging you."

After a challenging first semester, LaValle transferred to COM and earned a 3.5 average GPA required to join Phi Theta Kappa.

"I started at a four-year university and I didn't do well. I was lost in a sea of over 400 in a biology class," LaValle explained. "Coming to COM, I received one-on-one attention and developed relationships with professors who want you to succeed. Their drive to see students succeed is indescribable. They challenge students to keep learning."

LaValle was also inducted into the Texas Hall of Honor and into the District IV Hall of Honor along with COM professor Dalel Serda and students William Manes, Michelle McManama, Abraham Parada and Monisha Waggoner.

Planning to graduate in 2016, LaValle has learned many lessons through PTK including "to always keep pushing forward, to work as a team player and to never quit learning."

For more information on PTK, contact Serda at dserda@com.edu or Brasher at hbrasher@com.edu.