For HIM student, internship opens doors to UTMB job
Apr 22, 2015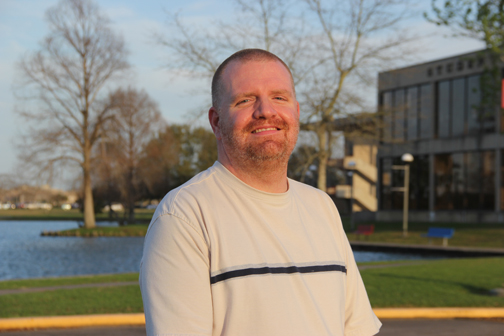 Each paper represents a person for Greyson Burdette. In his new job at UTMB in employee records, the COM health information technician student helps complete, organize and maintain thousands of employee files.
"I love it here," said Burdette. "There's a lot to do because we're dealing with thousands of employee records."

Burdette, 39, of Texas City, landed the job following an internship at UTMB last fall.

"You have to have a keen eye for things. The medical record contains a lot of sensitive information. I enjoy looking over records and making sure all the information is there. Every week they had me doing something different," explained Burdette.

"Health information management is kind of behind the scenes in a hospital, but we're important when doctors and nurses need a patient's medical record."

This semester he is on track to graduate with two associate degrees: The associate degree in history he began 15 years ago and an associate of applied science in health information technology.

With the encouragement of his wife, he returned to finish what he'd started.

"She's the one who pushed me to go back," said Burdette. "I started taking classes and I stuck to it."

He also found support in his classmate Marcos Soulsby-Monroy.

"He got a study group together. We hit it off. Ever since then we've been really good friends," said Burdette. "We push each other."

Health information management graduates look forward to many opportunities as the health care field grows.

"We send a survey six months after graduation to students, and we've received a 100 percent satisfaction rate," said health information management program director Kay Frieze.

Graduates are in demand in hospitals, physician offices and clinics as well as many other types of settings.

"We attempt to give students internships in two different types of settings, such as a hospital and nursing home," said Freize.

The College of the Mainland Health Information Management Program offers two options to help students launch a career: a certificate and an associate degree.

Students can complete the Medical Coding Certificate in a year and a half to prepare for jobs in medical coding. The two-year degree AAS in Health Information Management expands on the certificate in one extra semester, giving students greater job opportunities from clerical jobs to information technology to management.

After successfully completing the program, students are eligible to sit for the American Health Information Management Association's national exam to become a registered health information technician (RHIT).

For more information on the program visit www.com.edu/him or call 409-933-8414.