Robotic man, clinical rotations and lab sessions at COM prepare future registered nurses
Apr 15, 2015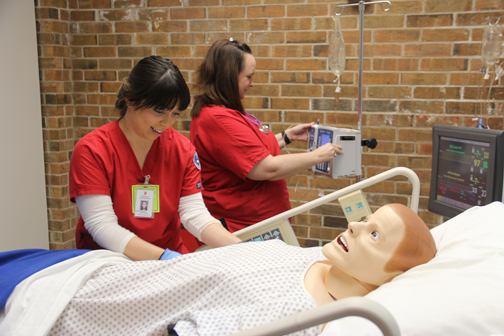 In the College of the Mainland Associate Degree Nursing program, preparation for providing compassionate care does not begin with a textbook.
Students practice skills in hands-on labs, in clinical rotations and with the SIM-Man, a computerized mannequin that mirrors symptoms, such as irregular breathing, that change as students respond.

"With the program here, I was able to do a lot of skills, like IVs, that most people (in bachelor's degree programs) don't do until after nursing school," said COM graduate Jessica Brown, a pre-operative nurse at Bay Area Regional Medical Center.

"With nursing every day is going to be a new challenge. The instructors did a really good job of preparing us for reality."

Those at COM training to be registered nurses also benefit from faculty mentors, free tutoring and open computer labs.

The field remains one of the best-paying careers requiring an associate degree. Registered nurses' average salary is $68,910 per year, according to the Bureau of Labor Statistics.

"Employers are looking for skilled nurses," said Jere Hammer, COM nursing department chair. "As the U.S. population ages, the demand for registered nurses continues to increase."

Nursing professors make themselves available after classes for extra help and dedicate themselves to student success.

"I've never taught with a more caring faculty," said COM nursing professor Patricia Aulds. "It's a friendlier environment."

The COM Associate Degree Nursing program is approved by the Texas Board of Nursing and accredited by the Accreditation Commission for Education in Nursing. Many credits transfer for those wanting to later earn a bachelor's degree in nursing.

Graduates have a nearly 90 percent first-attempt pass rate on the state exam in the past five years.

Licensed vocational nurse applicants that want to transition to the registered nurse role should apply by Jan. 15 for fall 2015 admission.

Unlicensed applicants must apply by May 1 for fall 2015 admission.

For more information, visit www.com.edu/nursing or call 409-933-8425.