COM mechanical students recruited by industry before graduation
Mar 9, 2015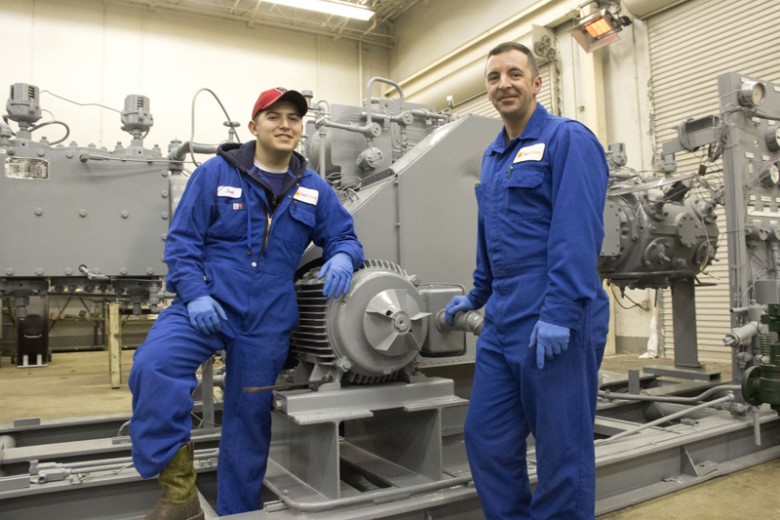 Jose Hinojosa, 20, of Texas City, and Jason Lynch, 40, are three classes from graduation from the College of the Mainland Mechanical Maintenance Program but their in-demand skills have already landed them jobs as second-class machinists at Sun Edison paying $35.14 per hour.
SunEdison, a global leader in manufacturing solar technology, visited the Mechanical Maintenance Program to recruit students, and Hinojosa and Lynch passed written skills test, physical test and interview to land jobs.

"I wouldn't have gotten this job if I hadn't been going to school," said Lynch. "I wouldn't be where I am without this school."

Lynette Schulte, Sun Edison human resources manager, said that the company anticipates further recruiting.

"A significant amount of people are retiring," said Lynette Schulte, SunEdison human resources manager. "We have a testing process and people weren't passing the test. When they are in school, the students tend to do really well on tests. I know they are very happy with (Hinojosa and Lynch)."

COM's program prepares mechanical maintenance technicians for a wide variety of duties, such as preventive maintenance, making machinery adjustments and repairing equipment using blueprints, sketches, diagrams and a variety of tools.

It's a career change for both students.

"I was working at (a restaurant) and I thought, 'I don't want this.' I needed to go to college," said Hinojosa. "This is the best job I've ever had. The money and the benefits are awesome."

They work full-time, repairing pumps, compressors and rotating equipment at the plant, which makes high-purity polysilicate to use in solar panels and other products.

"We have to keep the equipment running or it will cost the company money," said Lynch.

Hinojosa agreed.

"The best feeling is once it's working you know you did a good job," said Hinojosa.

The two are three classes from graduation. The Mechanical Maintenance Program consists of three certificates: basic, intermediate and advanced. Completing the advanced certificate will open more opportunities, which Hinojosa and Lynch look forward to.

"We are receiving a lot of overtime," said Lynch.

College of the Mainland hires instructors with years of experience in the field. Each course combines classroom and hands-on work in the lab with turbines, compressors and other machines.

The need for qualified mechanical maintenance technicians in the Gulf Coast region is anticipated to grow by 22 percent by 2018, according to Workforce Solutions. This need provides great employment opportunities for individuals entering into the workforce or looking for a career change.

"Graduates are in demand in petrochemical plants, refineries and machine shops," said COM CE Industrial Workforce instructor Lloyd Lindsey, who brings 47 years of industry experience to the college's program.

Classes are held in the evenings for students' convenience.

For more information on the COM Mechanical Maintenance Technician Program, visit www.com.edu/ce or call 409-933-8586.