Alum's students sing their way to New York and beyond
Mar 6, 2015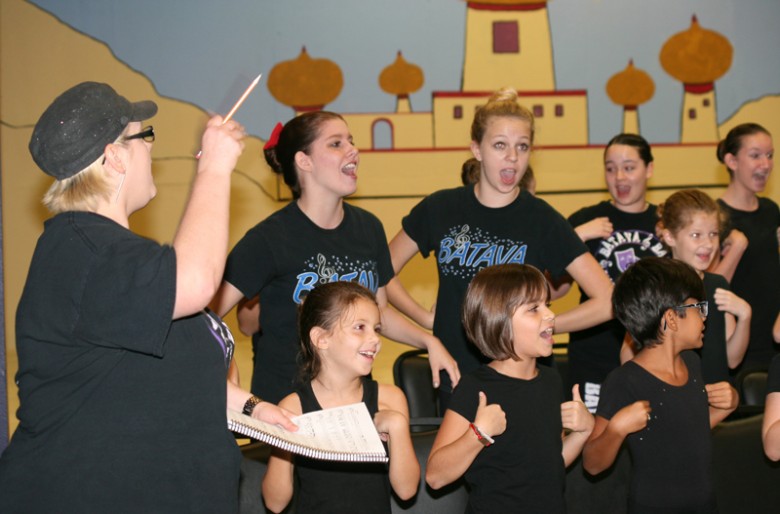 Minarets from the summer's production of "Aladdin" shimmering in the backdrop, the 31 young performers of the Bay Area Theatre and Voice Academy in League City belt out their musical quacks and cock-a-doodle-doos.
Preparing for their fall musical "Honk," based on Hans Christian Anderson's "The Ugly Duckling," national award-winning educator Relana Gerami coaches her students: "Stand up straighter. Hold that note for two beats, "Fa-arm."
Seeking excellence from even the pony-tailed six-year-old on the front row, Gerami, the program's executive and artistic director and a College of the Mainland alumnus, prepares her proteges for a future on the stage.
"We're for the serious-minded student who wants to do this as a career. We treat kids like mini-professionals," she said. "I don't give up on them."
Her efforts have paid off and graduates of the intensive fine arts program have traveled across the U.S. – Gerami's former students have been accepted to The Boston Conservatory of Music, New York University and Carnegie Mellon University.
An educator for more than a decade, Gerami began her musical journey at a Texas City High School talent show. After her performance, COM music professor James Heffel invited her to audition at COM, where she received a full scholarship.
"It changed my life," she said. "(Heffel) really helped me grow as a musician. I wouldn't be here if not for him."
While studying at the college, she discovered the harmonies of composers Mozart, Bach and Beethoven, which kindled a passion for opera. She went on to sing in musicals throughout the Houston area and met her husband, Benjamin Luss, now managing director of the Bay Area Theatre and Voice Academy, performing in "Honk" in Houston.
Later, she began giving voice lessons at Harbour Playhouse, a community theater, and found a tandem passion to opera – teaching. As she coached three promising voice students, their families pledged to support her financially if she opened a fine arts studio exclusively to encourage young performers' talents.
In 2007 she launched the Bay Area Theatre and Voice Academy, located at 400 Hobbs Rd., Suite 202, in League City and began offering musical theater classes and private piano and voice lessons for 6-year-olds to adults. She recently added a dance studio to the school's repertoire.
The highlight of each semester is students' performance of a classic musical, such as "Grease," "Fiddler on the Roof" or "Sweeney Todd." Condensed into one-hour productions, each musical is perfect for both young performers' talents and audiences' attention spans.
Joining the cast of "Honk" is Kelsey Perkins, 15, a sophomore at Santa Fe High School. At the Bay Area Theatre and Voice Academy, she takes private voice and piano lessons and group classes in music history, acting, ballet/jazz/tap and music theory. She calls the studio her "second home."
"This place has helped so many kids grow and become their own person," Kelsey said. "Mrs. Relana and Mr. Ben made me feel so welcome, and they just let you be yourself.
She takes the time to listen and build relationships with you, and that not only makes working with her easier but it also allows you to feel safer while in voice lessons. I can't even describe how much I have grown, not only with my singing but as a person too. If my future (on Broadway) doesn't work out, I will be glad to come back and work here one day. Maybe I'll change someone's life like she changed mine."
For her excellence in musical theater education, Gerami won the prestigious Freddie "G" Master Teacher Award in 2010, and with it an all-expense-paid trip to New York. There she and other award recipients coached child actors in musical scenes with the guidance of Broadway directors.
Her greatest triumphs, however, are her students' successes.
In 2010, Musical Theatre International invited her students to perform a 15-minute excerpt of their production of "Alice in Wonderland Jr." at its national competition. They won the Outstanding Production Award that year and again in 2011 and 2013. They also won the 2012 Outstanding Music Award and the 2013 Outstanding Achievement in Ensemble Work Award for "A Little Mermaid Jr.," winning a total of five awards in four years.
One of her three starting students – all have now grown – toured when he was 11-13 with the New York Opera, Boston Lyric Opera and Houston Grand Opera.
While many of Gerami's graduates now thrive in the limelight, others have decided to translate their skills to the hospital, boardroom or courtroom. Whichever path they choose, their experience has prepared them to shine.
"They're able to communicate better," she said. "They grow in so many ways. So many come in very shy with their heads down and leave confident. It gives them a voice."