COM student champion in debate tournament
Feb 16, 2015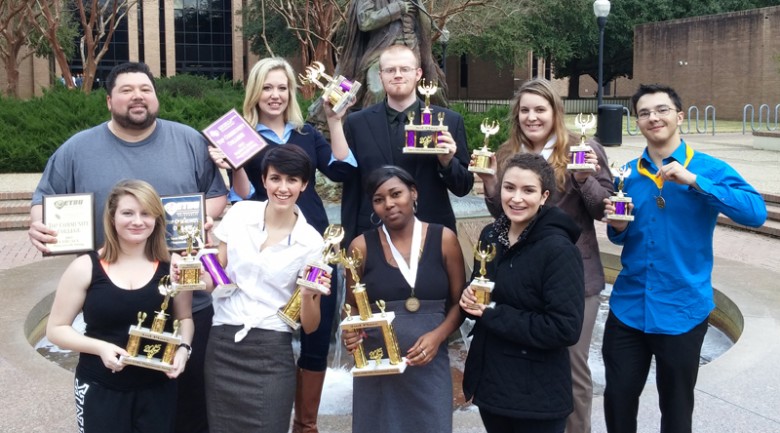 Triumphing over students from two and four-year colleges, College of the Mainland student Alaina Spiers, of League City, became champion of a debate tournament hosted by Stephen F. Austin University. COM won the top community college award in back-to-back tournaments at the university and won second place overall.
"The team's really supportive. It's a team sport even if you're the only one speaking," said Spiers. "(After we get our topics,) we all go back to the room and brainstorm together."

Students have 30 minutes to prepare to debate topics ranging from statements such as "America's all about the bass" to "Parents should have guardianship of their adult children addicted to drugs."

Spiers began debate after taking COM professor Nakia Welch's speech class online.

"Alaina is one of the most poised persons I've ever met," said Welch. "She took my speech class online. The first time I watched her speak was through video and I recognized that in the video."

In the first tournament, COM student Sarah McKay was a finalist and Natasha Jacobsen was a semifinalist in novice division. Samantha Burdick was a semifinalist in the professional division.

In the second debate tournament, Sarah McKay was quarterfinalist in the novice division and second-place speaker, Greyson Chisholm was a semifinalist in the novice division, and Samantha Burdick became semifinalist in the professional division and fifth place speaker. Kimberly Hawkins, Jordan Hollan and Allie DeVasier also competed in both tournaments.

"They came in and kicked tail. I was one proud papa," said Welch. "You have to have a certain level of knowledge and intelligence but it's mostly a willingness to learn be open to instruction and (have) no fear."

The debate team meets Tuesday for an hour. Welch also teaches a debate class as an elective where students can explore the theory of debate, practice constructing an argument and respond to arguments.

"It's about courtesy and speaking skills," said Spiers. "I've made friends too. You have long car rides (to tournaments). It's like a big family."

For more information about the COM Debate Team, email Welch at nswelch@com.edu.