Burton named COM VP for Fiscal Affairs
Feb 11, 2015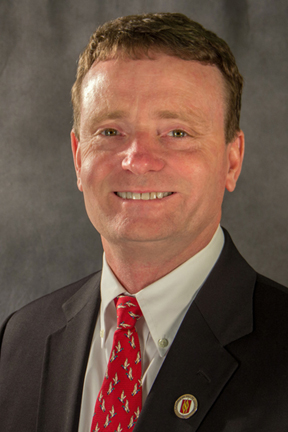 With an extensive background in nonprofits, new College of the Mainland Vice President for Fiscal Affairs Clen Burton's passion is community colleges.
"I love what they do, getting people to change their lives," said Burton. "Community colleges change generations."

Burton recently worked for the nonprofit Lone Star Legal Aid as chief financial officer. He previously served as vice chancellor for finance and administration at River Parishes Community College, in Sorrento, Louisiana, where he also taught as an adjunct accounting instructor.

In addition to his VP role overseeing facility services, purchasing, accounting and energy management, Burton is currently teaching a face-to-face accounting class at COM.

"I love teaching," said Burton. "A great deal of the population in a community college is people (who have been told) college is not for them. It's always exciting to see people who discover they can do this."

Students' feedback in the classroom will help guide his direction for the Fiscal Affairs Department.

"It's another way of getting information from students," said Burton. "The goal is to continue to make the department focused on customer service and student satisfaction."

Burton earned a doctorate in human resources education and workforce development, a Master of Science in accounting and a Bachelor of Arts in speech communications, all from Louisiana State University.

Burton also received an associate degree in computer information systems from Bossier Parish Community College in Louisiana, where he became a member of Phi Theta Kappa, the national community college honor society.

He resides with his wife, Michelle, and 12-year-old twins, Shelby and Clay.