COM student's design named official Mardi Gras poster
Feb 5, 2015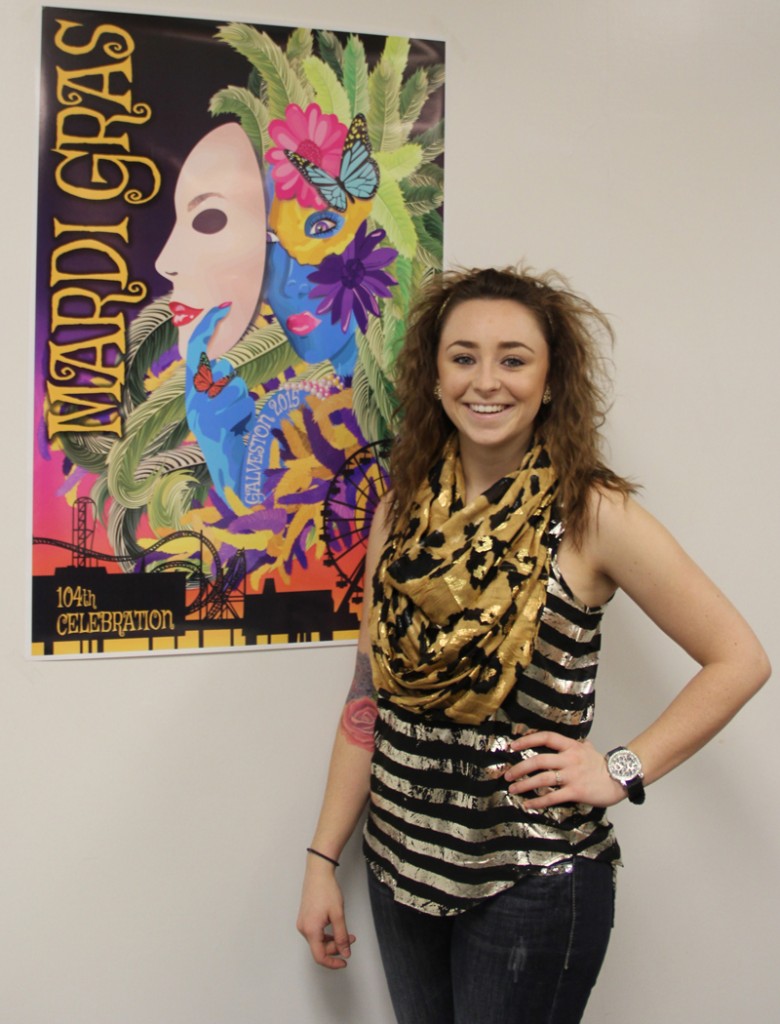 College of the Mainland student Chandler Mitchell's winning Mardi Gras poster blends fantasy and reality.
"She's a Mardi Gras creature who's been pretending to be one of us all year and taking her mask off and revealing her true self," said Mitchell.
Winning the Official Poster Contest of Mardi Gras! Galveston by Yaga's Entertainment, Mitchell, 21, of Texas City, earned a $1,000 prize and will have her work reproduced as the official 2015 poster.
"I put myself in the poster," said Mitchell. "My first project in Illustrator (at COM) was to do a self-portrait. I took my eyes and my rose tattoo and put them in."
An artist from a young age, Mitchell is a full-time graphic design student at COM.
"Searching the Internet taught me how to use Photoshop. I came here and learned a whole lot more," said Mitchell. "When I come to school, I don't really feel like I'm at school."
Mitchell has already begun an artistic career and runs online shops on Etsy.com "The Nerdy Bird 1" and "The Nerdy Bird 2." She sells cell phone covers she creates, many with a police theme inspired by her fiancé, and invitations that she customizes and emails for clients to print.
"Just the fact that someone likes what I made so much and is willing to pay for it is the best feeling ever."
In the COM Graphic Design Program students earn a two-year degree and skills in DreamWeaver, Illustrator, Photoshop and more. The program prepares students to transfer to a university or apply their skills immediately in the workforce.
Learn more at www.com.edu/graphicdesign.