COM police grad sweeps awards
Jan 22, 2015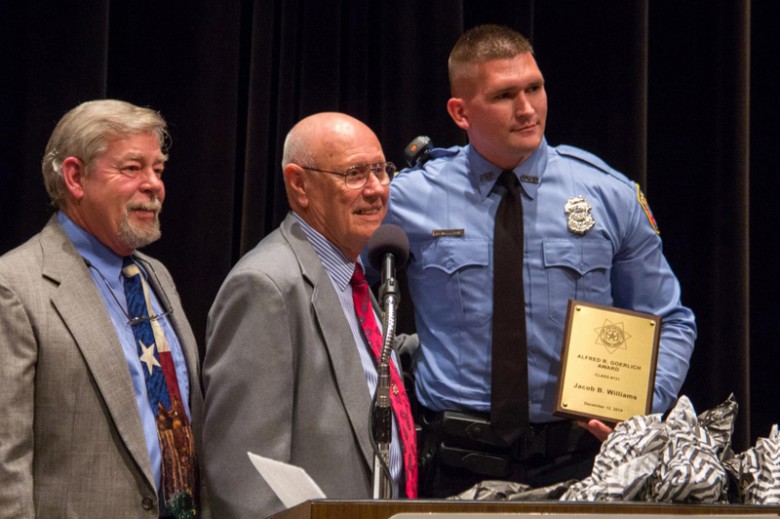 For Jacob Williams' family protecting others is a way of life.
"My dad was a Green Beret. My paternal grandfather J.B. Williams served in Burma as Army infantry during World War II and my maternal grandfather Perry Snider was the primary person who taught me to shoot," Williams explained.

"I started wrestling at 3 and competing in wrestling at 5."

After serving as a firefighter and law enforcement officer in Oklahoma, Williams, of La Porte, was hired by the Galveston Police Department and sent to College of the Mainland Basic Peace Officer Academy for training.

Recently graduating at the top of the COM Basic Peace Officer Academy, he earned all three of the academy's top honors, the Top Shooter, Highest Grade Average and Leadership Awards.

"Classmates voted him class sergeant/spokesperson," said recently retired director of law enforcement training B.J. Whitburn. "He had one of the highest shooting scores we've ever had. He shot 99.6 percent accuracy."

During the rigorous police academy, Williams completed classroom, physical and hands-on scenario training.

With six children, including one-year-old twins, he dedicated late hours to homework.

"I would study until 12:30 or 1 and then get up at 4:30 for class," said Williams.

He carries that dedication beyond the classroom to his role as a Galveston Police Department officer.

"A police officer is a public servant, and we're there to help anyone and everyone," said Williams. "I know I'm not going to be able to change the world. I am able to change someone's world at that time."

For one Oklahoma woman, that meant listening to her repeated fears that someone was attempting to burgle her home. On visiting, Williams discovered the issue.

"The handle and lock were broken," said Williams. "I bought a new handle set and (put it) on the screen door so she could feel more secure."

Another time, going the extra mile meant choosing to enter a woman's burning home to retrieve her keepsakes.

"It was the only house she'd ever had," said Williams. "I was able to save some of her pictures. It makes it all worth it."

A former youth wrestling and wrestling coach for special Olympics, Williams aims to continue teaching as a law enforcement officer.

"I want to come back to COM and teach," said Williams. "I want to use my marital arts … to help fellow officers be safe. If I can help another officer go home at the end of the shift and keep citizens safe, (it's worth it)."

For more information on the COM Basic Peace Office Academy, now open for spring registration, visit www.com.edu/law-enforcement.