Ice Land Internship gives COM students experience
Jan 1, 2015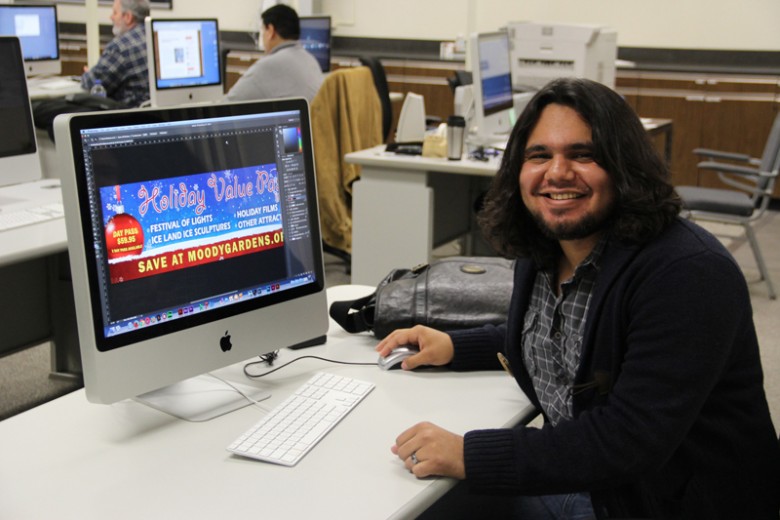 For Hector Villalobos, making the neon lights and majestic sculptures at Ice Land at Moody Gardens come to life for a 14x48-foot billboard is just part of a day's work.
Working as an intern, the College of the Mainland students sees his work in print, online and on social media.

"I'm looking forward to seeing my first billboard," said Villalobos. "It's part of the image of the company."

His billboard will soon be on display on 1-45 in addition to his creations already sprinkled throughout Moody Gardens since he began his internship in May.

"Hector does a fantastic job. He quickly excelled and surpassed our expectations for an intern," said Jerri Hamachek, marketing manager at Moody Gardens. "His photographs have been used in Moody Gardens marketing for this project and by local, regional and national news media for the grand opening of Ice Land."

While Villalobos interned at Moody Gardens, his classmate Svetlana Lovchikova won a contest run the League City Chamber to develop its logo for the It's Your Time Women's Conference.

When the contest committee selected her drafts, Lovchikova coordinated with them to develop a design to fit their look in a timeless way so it can be used for several years.

"It was a big deal for me," said Lovchikova. "They used it on digital screens, on souvenirs, on the website."

Both Lana and Villabolos have prior degrees – Lovchikova in journalism and Villabolos in information technology – and view the graphic design program as a way to strengthen their artistic skills and make themselves more marketable.

"Students when they leave are prepared to enter a job," said professor Coleena Jackson. "We meet formally once a year with industry members on our advisory committee, and we talk to them throughout the year. The most important thing for (professor) Freda O'Connor and I is to have a pulse on industry, so we can train our students for jobs."

In addition to internships, hands-on classes working with PhotoShop, DreamWeaver and InDesign and class critiques strengthen students' work.

"It's been awesome. When I came here I changed the way I did things," said Villalobos. "You get to do hands-on projects, like for the typography class we made books. You make the cover, bind it and trim it."

The COM Graphic Arts Program offers an Associate of Applied Science in Graphic Design/Web Design to prepare students for transferring to a university plus a Graphic Design Certificate and Web Design Certificate for those who want to enter the workforce quickly.

Both the degree and certificates allow students to learn current software, collaborate with classmates, and work on real-world projects.

For more information, visit www.com.edu/graphicdesign or call 409-933-8535 or 409-933-8254.