COM fifth in nation in science technology graduates
Sep 23, 2014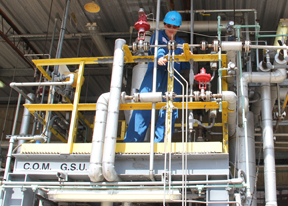 COM ranks fifth in the nation in the number of degrees awarded in science technologies/technicians in 2013, according to a recent report by magazine Community College Week. COM graduated 79 Process Technology Program students in 2013, a four percent increase.
The COM program relies on industry partnerships and an advisory council of industry representatives to set program standards and determine which topics students will master.

"Having been involved with process technology for nearly 15 years, it is my opinion that COM has one of the best (if not the best) PTEC programs in the nation," said Ray Perry, Training Technologist of Texas City Operations at Eastman Chemical Company and chair of the COM Process Technology Program advisory committee. "COM's program produces graduates that are of the highest quality who meet or exceed industry needs."

The two-year program teaches students through labs and hands-on classes operating industry equipment such as the glycol separation unit.

"We work very closely with our industry," said COM process technology program coordinator Jerry Duncan. "We've had internships with Shell, Marathon Bay Refinery, INEOS and Dow Chemical. Bayer just came to us and asked to start an internship program in the next four to five months."

The program also partners with the ExxonMobil Community College Petrochemical Initiative, which seeks to provide training and funding for the next generation of petrochemical workers to keep pace with industry growth. This fall the initiative awarded four COM students scholarships.

As industry grows along the Gulf Coast, job opportunities for program graduates multiply.

"$80 billion in chemical plants and refineries are proposed to be built on the Gulf Coast in the next four to five years," said Duncan. "Also, operators are retiring. This is an outstanding time to enter the field."

Ceadric Bourgeois, 33, of Texas City, will graduate in December and looks forward to career options.

"I've taken (employment) tests for companies, and I compared them to tests in class. I'm over prepared," said Bourgeois. "The instructors make our program successful. They give us perspective on what a first-year operator has to deal with and the knowledge you need to do the job."

Process technology graduates are in demand in food processing, chemical, pharmaceutical and petrochemical industries.

"I plan on going back and getting my degree in chemical engineering," said Bourgeois. "The sky's the limit."

For more information on the COM Process Technology Program, visit www.com.edu/ptec or call 409-933-8536.